Alfa Brera proves to be a 'hot property' for cheshire estate agents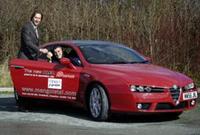 Leading Alfa Romeo dealership Mangoletsi is busy celebrating the success of Alfa Romeo's latest sportscar, the stunning Alfa Brera … by giving away seven of these exciting new models on long term loans.

Mangoletsi, the UK's largest and oldest authorised Alfa Romeo dealership, which is based just outside Knutsford, Cheshire, has recently handed over the keys for seven brand new Alfa Brera models to a mix of leading sporting heroes and premier estate agents located across Cheshire.

All recipients are now being given the chance to sample the delights of the multiple award-winning Alfa Brera for six months as part of a drive to show off the stylish new sports model. Each car is worth between £23,995 and £30,700 and the total cost of the models being handed out is around £175,000.

Fraser Hudson, Managing Director of Mangoletsi (Holdings) Ltd, says: "We really wanted to get some of our most beautiful Alfa Romeos out on the road where they will be seen by people across Cheshire and the North West. Everyone who sees the Alfa Brera is amazed by its beauty and is instantly attracted to its sleek looks and luxurious Italian styling; these are highly seductive cars that simply have no rival.

"We are delighted to now be able to loan out these prestigious new models to some of the county's leading estate agents – and they are sure to become instantly recognisable features on the road thanks to their striking Mangoletsi livery."

Estate agents who will be driving the new Alfa Brera include: Andrew Snape; Clive Watkin Partnership; Meller Braggins; Watersons; and Wright Manley. Further Alfa Brera sportscars are also being loaned to Sale Sharks Rugby Club and to Macclesfield Town Football Club, the latter which the managed by former Manchester United, Liverpool, Inter Milan and England football star Paul Ince.

Mangoletsi, the UK's largest and longest established Alfa Romeo dealership, is celebrating the milestone of its 40th anniversary this year. They have been inundated with interest in the new Alfa Brera since its launch last year. The new model is a thoroughbred sports car that combines cutting-edge technology to offer the ultimate driving experience.

Its sleek lines, which flowed from the pen of famous Italian master designer Giorgetto Giugiaro, give the model an overall impression of compactness that belies its roomy and luxurious interior. Its eye-catching form, which subtly combines beauty with aggression, is backed up by an able and dynamic chassis, very powerful but at the same time highly efficient engines, and class-leading safety features.

Fraser adds: "Everyone who works at Mangoletsi is truly passionate about the marque we represent, and the Alfa Brera is no exception – it is an integral part of a sophisticated brand with a long heritage, that we know our customers love."

To find out more about the new Alfa Brera visit mangoletsi.com, or visit Mangoletsi on London Road, Allostock (on the A50 between Knutsford and Holmes Chapel).