Autodelta Brera J5 3.2 C MY2008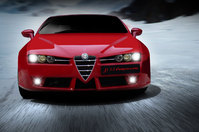 Autodelta is pleased to introduce the Autodelta Brera J5 3.2 Compressore 'Model Year 2008' (MY) which has been developed specifically for hot and tropical climate requirements and now incorporates an air-to-air intercooler mounted behind the front bumper.

The Autodelta Brera J5 3.2 C MY will be presented for its world première at The Pistonheads Performance Car Show which takes place at the National Exhibition Centre in Birmingham from Friday 11th - Sunday 13th January.

The 'Phase 2' engine follows on from the 3.2 V6 supercharged engine development first launched on the Brera J5 3.2 C in September 2006. The success of our bespoke upgrade for the Brera has caused a huge demand on our London base and necessitated a restructuring of our operations, with emphasis being placed cutting the backlog and on training for our agents around the world to undertake the conversions. The arrival of the Spider (J6) in November has further increased demand.

At the same time we have been forced to rapidly respond to global demand for the J5, and now the J6 programmes, and particularly from climates where constant or variable higher temperatures are a feature. To satisfy this demand our Research & Development (R&D) team have focused on a 'Phase 2' development on the J5.

To ensure consistent performance levels in extreme hot air temperatures, Autodelta's engineers developed and tested various solutions including water-to-air intercoolers and opted for the air-to-air version for simplicity and reliability. Following a series of computer simulation, actual testing was carried out over a period of 8 months on supercharged R&D cars including ones that were tested in hot climate countries.

The programme was overseen by our head of R&D Sergio Truzzi; while testing was carried out in Greece where the correct climatic conditions prevail. One of our longest-established and most important global agents is Auto Corse, based in Athens, and they have facilities suited for this R&D programme.

"Athens makes an ideal base for our extreme climate testing programme," says Autodelta Managing Director Jano Djelalian, "as well as the state-of-the-art workshops available we see very hot weather conditions right throughout the summer and the rugged surface of the roads, plus incessant dust and larger inanimate objects allow us to rigorously test our cars and evolve meaningful, practical solutions. The development team has been based at Auto Corse and we are delighted with the level of facilities made available to us.

The Autodelta Brera J5 3.2 C MY2008 features a revised system with an intercooler incorporating new mapping. The 3.2 V6 engine's power curve has been revised to allow stronger performance at peak revs, which are now raised to 6,400rpm and peak power is 352 bhp (up by 4 bhp over the J5, and 92 bhp over the standard model) and improved torque which now is 435 Nm (up by 5 Nm) allowing even stronger motorway overtaking. 0-100 km/h is achieved in 5.3 seconds while top speed of over 260 km/h is easily achieved.

Additional specific benefits of the J5 MY include improved fuel consumption. Head of Autodelta R&D Sergio Truzzi comments: "The supercharged test cars returned near identical consumption in normal driving conditions in back-to-back testing compared to the standard 3.2 aspirated engine, so this for us is a very satisfying achievement." This programme has run alongside a schedule to develop the supercharged 3.2 V6 engine to maintain optimum performance on all markets. "We have evolved ECU mapping that allows [lower grade] petrol characteristics that are prevalent in certain markets our authorised agents work in to operate with our conversions and provide maximum performance increases while putting no strain additional on the engine."

The Autodelta Brera J5 3.2 MY is a completely focused package and comes with the bespoke upgrades to the chassis, suspension, braking, electronics and styling that have made the car so successful. Further exterior styling options are now available on the J5 MY, including new side skirts.

Pistonheads Performance Car Show

The first edition of the Pistonheads Performance Car Show gets underway on Friday (11th January) at the National Exhibition Centre in Birmingham. Focusing on performance car's it is co-located in the NEC with the long-running Autosport International show. Official involvement runs from prestige sportscar brands such as Lamborghini and Lotus, to leading tuners, including Hamann and Schnitzer, while there will be a number of new model debuts from specialist carmakers like Aerial and KTM. Other highlights will be the Live Action Arena and Track Day Car display, while Mitsubishi will display an example of each of their potent Evo model series, from I to X. For Italian car enthusiasts' there will be an array of exciting cars including Ferrari's race track F430 Challenge, Maserati's stylish new GranTurismo and Lamborghini's lightweight limited-edition Gallardo Superleggera.

"Autosport International has always been a fixture in our January diary, but this year taking part in the Pistonheads Show makes perfect sense," says Jano. "The organizers have put a lot of effort and enthusiasm into creating a focused performance car extravaganza and it looks to be very promising. We're delighted to be participating in the show."

The Autodelta Brera J5 3.2 C MY2008 will be on shown on Stand 11545, Hall 5 of the Pistonheads Performance Car Show at the Birmingham NEC from 11-13 January 2008. Jano Djelalian and the team will be on hand to introduce this car and the Autodelta range, and we look forward to seeing you.