Quality housing for overseas students worth £10.2 bn to UK economy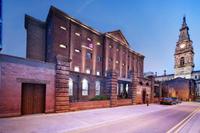 An HM Government document from July 2013 describes the huge £10.2 billion contribution overseas students make to Britain. It highlights the need to "look after them while they are here" and part of that host role is decent student accommodation.

Peter McDermott, Director of UK-based Go Global Investments, comments, "Overseas students, to a greater extent than their home-grown counterparts, require secure, quality, facility-rich accommodation within easy reach of campus. Halls of residence are in short supply, HMOs are daunting and the option to live with parents is obviously ruled out. This is where purpose-built accommodation projects really come into their own as they not only tick every box for international students but also give that good impression the Government is clearly angling for."
The Government document entitled 'International Education: Global Growth and Prosperity' estimates that in the 2011/12 academic year overseas students at UK higher education institutions contributed £10.2 billion to the economy – 3.9 billion in tuition fees and 6.3 billion in living expenses.
Expenditure aside, international education is also said to strengthen overseas business and cultural links, helping to foster good relations between the next generation of global leaders. The UK is the second most popular destination for international students (around 13% of the global share, behind the USA) and it's expected that they will grow in number by 15 – 20% over the next five years. Superior accommodation is an essential part of the warm British welcome.
One such project is The Bridewell in Liverpool's L2 postcode. The student population in this vibrant Merseyside city numbers almost 70,000 and in 2013 The University of Liverpool saw an 18% surge in student recruitment on the previous year with Liverpool John Moores experiencing a 6% increase. Currently 6,000 of The University of Liverpool's 36,000 students and 8% (around 2,000) of Liverpool John Moores University's 25,000 students are international, and there are more than 500 international students in Liverpool Hope University's 7,500-strong population. The need for The Bridewell is clear to see.
Peter continues, "Research from Knight Frank, also in 2013, shows that Liverpool has seen strong rental growth of between 3% and 4% as a result of high performing Universities and an acute undersupply of housing. Liverpool's institutions only provide 16% of student accommodation. 86-room The Bridewell will help alleviate this shortage as well as providing investors with massive assured net returns of a minimum 8% per annum. Furthermore the project will be ready for occupancy this September, earlier than many other student accommodation projects currently being marketed, so investors can enjoy early yields. They will also receive 5% per annum interest on deposit monies."
A redevelopment of a Grade II Listed building at the heart of Liverpool's historic quarter, The Bridewell has all en-suite rooms spread over four floors plus a mezzanine. Each level benefits from a kitchen, lounge and dining area, whilst there is also a communal gymnasium, laundry and bicycle storage. The building is secured by keycard entry and CCTV.
The main Liverpool John Moores University campus is within a three minute walk whilst The University of Liverpool and Liverpool Hope University are at ten and 15 minutes walk respectively. Lime Street Station, which connects London by train in two hours, and Liverpool ONE shopping centre are also under ten minutes by foot.
Prices at The Bridewell start from £48,950 and the development will be fully managed by Jamworks - an established proven developer of specialist student accommodation.