Alfa Romeo launches Alfa GT Cloverleaf series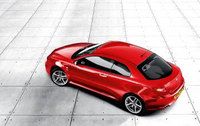 Alfa Romeo's iconic Cloverleaf badge is back in the UK, this time on a special series Alfa GT which goes on sale on 1 July.

A rare symbol associated with Alfa Romeo's prestigious racing heritage, the Cloverleaf denotes enhanced sports handling characteristics along with distinctive styling additions.

Topping the four-version Alfa GT Cloverleaf range is the 1.9JTDM 16V Cloverleaf Q2 170bhp, featuring a Q2 limited slip differential to deliver outstanding cornering ability, along with a sport button that varies the mapping of the throttle to give a normal or sporty accelerator response.

All Alfa GT Cloverleaf models come with exclusive 18" double spoke alloy wheels, red brake callipers, satin-effect front grille and door mirrors. Three versions sport a subtle Cloverleaf badge on the boot lid, while the 170bhp version features the Cloverleaf inside a white triangle above the front wheel arch. Customers will be able to choose from three individual exterior colours – Carbonio black, Alfa Red and Atlantico blue.

Inside the cabin, Alfa Romeo has added to the equipment list with leather sports seats, aluminium sports pedals and sports dials with a red background. A Bose RDS radio with CD and MP3 reader sound system is also specified.

Like the rest of the Alfa GT line-up, all Cloverleaf models include ABS anti-lock braking with EBD, VDC with brake assist, dual zone air conditioning, steering wheel-mounted stereo controls and rear parking sensor.

Delivering head-turning style and performance to match, the range-topping 170bhp 1.9 JTDM powers the Alfa GT Q2 Cloverleaf from 0-62mph in 8.2 seconds and on to a top speed of 134mph; while the gutsy 150bhp 1.9 JTDM will accelerate from 0-62mph in 9.6 seconds and reach a top speed of 130mph.

The 2.0JTS engine version will accelerate from 0-62mph in 8.7 seconds, and reach a top speed of 134mph, while the 1.8 petrol engine version has a top speed of 124mph, with 0-62mph acceleration in 10.6 seconds.