40 free, family-friendly bike rides unveiled in the Lake District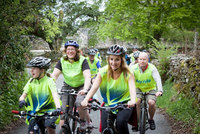 Fancy a gentle bike ride around the beautiful countryside that inspired the creation of Peter Rabbit? What about a family 'cycling picnic' on the tranquil shores of Coniston Water? These are just two of the leisurely experiences you can enjoy, with a programme of new, free guided bike rides across the South and Central Lake District.
With forty Sky Ride Local rides to choose from between Easter and October half-term, the routes have all been pre-planned and are guided by friendly British Cycling Ride Leaders, so they're ideal for all levels of confidence – whether you're new to cycling, haven't ventured into the saddle for years or are just looking for a new challenge. What's more, the 'easygoing' rides are all totally traffic-free!
The first ride, 'Biking, bunnies, and boats', will amble along at a gentle 6 mph and gets underway on Easter Sunday, 20 April 2014 from Hawkshead. Along the way, it will take in scenic spots like Esthwaite Water, famously home to Jeremy Fisher's lily-pad boat, and Wray Castle, where Beatrix Potter holidayed as a teenager. You can even hop along to the gate at Sawrey where the renowned children's author completed one of her best-known sketches of Peter Rabbit.
Or you could grab a packed lunch and join a new 'cycling picnic' ride alongside the shoreline of Coniston over the Spring Bank Holiday weekend (Sunday 25 May). With no traffic to worry about, it's ideal for young families and includes time to rest, snack and enjoy the views.
Additional Sky Ride Local routes include the medieval village of Cartmel (recently named as one of the '52 Places to Go' by the New York Times) as well as the ice-sculptured landscape of the Langdale Valley, the unspoilt countryside of the Lyth Valley and the wildlife haven of Grizedale Forest – watch carefully and you might spot a native red deer!
Meanwhile, a ride around the Rusland Valley to explore 'Arthur Ransome's Secrets' will provide some hidden treasures for fans of the Swallows and Amazons author. Or you could even incorporate a two wheel adventure with a trip on the 'bike boat' across to Windermere's western shore, as part of a series of rides from the Lake District Visitor Centre at Brockhole.
It is only the second year Sky Ride Local has come to the Lake District National Park, thanks to a partnership between British Cycling, Sky, the GoLakes Travel programme and the National Trust.
It's completely free to sign up for Sky Ride Local rides online (from Thursday 20 March) and there are no age restrictions on many of the routes (although some are only suitable for 8years+). The GoLakes Travel team is also hoping to provide low-cost bike hire at the start of each ride, with some including electric bikes for extra 'oomph'.
Claire Maclaine, GoLakes Travel Programme Manager, says, "Interest in cycling continues to grow and Sky Ride Local is a great way for families and friends to enjoy fun, free bike rides guided by local cyclists. The rides are a great way to get visitors out of their cars and to help them discover the awe-inspiring landscape of the English Lake District."
Caroline Gilbert, Recreation Manager for British Cycling in Cumbria, says, "It was superb to see so many people enjoying the Lake District by bike on Sky Ride Local rides last year. This year we're offering even more rides and routes, giving everyone a chance to ride a bike in some of the most beautiful places in the Lakes. With convenient starting points at the major tourist hubs, the rides avoid busy traffic and instead take you along quiet, idyllic tracks and roads. Sky Ride Local rides are a fun, relaxed way to experience the beauty that is all around you in the Lakes."
For more information, visit golakestravel.co.uk and goskyride.com/lakes.