Share the good times with Shloer this Easter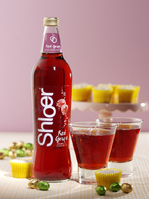 There's no better way to celebrate Easter 2014 than to crack open a bottle of Shloer and share the good times. Traditionally a time for getting together with family and friends, make sure you add a little extra sparkle to the occasion with the fruity range of grape based flavours.
Whether you are enjoying a leisurely Sunday roast, an Easter egg hunt in the garden or spending quality time with the grandparents, no table is complete without a bottle of Shloer.
Deliciously fruity and non-alcoholic, this sparkling juice drink is available in a variety of flavours, with Red Grape and Rosé as firm favourites for pairing with a traditional Easter dinner of roast Lamb.
Packed with hearty grape flavours, that complement the rich velvety flavours of a succulent Spring lamb, Shloer is the top choice for an Easter feast. Shloer recommends TV chef, Phil Vickery's traditional roast lamb as the dish of the day; the recipe can be found below and on enjoysundaylunch.co.uk
Shloer Red Grape is full bodied in flavour, using the very best in red grape juices to create the perfect glass of fizz - no alcohol required! Best served chilled over ice.
RRP from £2.25 / 75cl bottles in supermarkets nationwide
Shloer Rosé is fabulously fresh and created from a blend of grape juices, to make a sparkling drink which is ideal for all the family. Serve chilled over ice.
RRP from £2.25 / 75cl bottles in supermarkets nationwide
Bank Holidays are the perfect time for indulging in a spot of alfresco dining (weather dependent!) and how better to share the sparkle that by enjoying our new format Shloer Red Grape and White Grape, which are now also available in Share Packs (4 x 275ml bottles) making it even easier to enjoy your favourite flavours and share the good times!
RRP £4.29 in Tesco
Phil Vickery's traditional Easter roast lamb (serves 6)
Ingredients
1kg leg of British lamb, boned and laid flat
4 sprigs of rosemary
4 cloves garlic, finely sliced
1 tbsp olive oil
1 kg peeled potatoes (Desiree, King Edwards, Maris Piper are all good roasters)
200g good beef dripping, duck, goose fat or lard
Salt and freshly milled black pepper
500g baby carrots
500g green beans
50g Butter
Salt and pepper to taste
Preparation Time: 20 minutes
Cooking Time: 2 hours
Method
1. Preheat the oven to 200°C, Gas mark 6.
2. Puncture the lamb all over with a small sharp knife, then break off 2cm pieces of rosemary and garlic into the puncture holes. Sit the leg onto scrunched up foil in a roasting tin then place in the oven and cook for 1 ½ hours.
3. After 1 ½ hours has passed remove the lamb from the oven, wrap in foil and leave to rest for 40 minutes. This will give you a perfectly cooked, pink leg of lamb.
4. Meanwhile, place a pan of cold water on the stove and bring to the boil. Add salt and re boil.
5. Pop in the potatoes cut into large quarters. Bring back to the boil and simmer for about 10 minutes, or until the outsides start to fall away. Drain carefully.
6. Place the dripping in a baking tray, pop into the hot oven and heat for 10 minutes, or until just smoking. Remove the tray from the oven carefully, add the potatoes to the hot fat, season well with salt and pepper and pop back into the oven. Cook for 35-40 minutes.
7. When the bottoms are very crisp and golden, turn over and return to the oven, cook for a further 35-40 minutes, until both sides are crisp and golden. Serve piping hot.
8. 10 minutes prior to the potatoes being ready, wash and trim the carrots and beans. Bring a large pan of water to the boil over a high heat, add in the baby carrots, cooking for 2 minutes. Add the beans and cook for a further 5 minutes. Drain the veg and toss with butter, salt and pepper. Serve immediately in a warmed bowl.
For more information, go to shloer.com

EnjoySundayLunch.com is a new website packed full of recipes, tips and offers for you and your family to enjoy a sumptuous Sunday lunch.