quattro grip and TDI thrift for Audi A3 Cabriolet range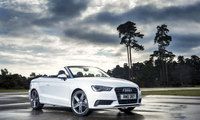 Longer spring days have just been complemented by the potential for lengthier spells of top-down driving between fuel stops in the new Audi A3 Cabriolet, which this week adopts a 1.6-litre TDI engine capable of over 72mpg. Drivers who value tenacity in corners and increased capability in adverse weather as highly as economy can also now opt for new quattro all-wheel-drive versions of the 180PS A3 Cabriolet 1.8 TFSI. The additions to the originally three-strong A3 Cabriolet range can be ordered now, as can new S tronic twin-clutch-equipped versions of the 1.4 TFSI 140PS Cylinder-on-Demand and 2.0 TDI 150PS versions. All the new variants will reach their first UK customers in the summer.

Positioned as the efficiency champion in the cabriolet line-up, the particularly frugal 1.6 TDI lowers CO2 emissions to just 104g/km and can achieve up to 72.4mpg according to the combined cycle test. Initially available to order exclusively as a six-speed manual, the A3 Cabriolet 1.6 TDI needs 11.4 seconds to reach 62mph from rest and can continue to a top speed of 124mph.

Peak power from the 110PS four-cylinder unit is available between 3,200-4,000rpm and peak torque matches the similarly efficient 1.4 TFSI with Cylinder on Demand at 250Nm between 1,500-3,000rpm.

Customers can choose the all-new A3 Cabriolet 1.6 TDI with SE, Sport or S line specification options, all of which include features such as the MMI Radio with DAB digital reception and powered retractable colour monitor, preparation for SD card-based satellite navigation, air conditioning or climate control, light and rain sensors and an automatic fabric hood that opens and closes in less than 18 seconds.

Sport models also feature the Audi drive select system which fine-tunes driving characteristics, larger 17-inch alloy wheels, lowered sports suspension and front sports seats, while S line models are fitted with 18-inch alloy wheels, Xenon plus headlights with LED daytime running lights and S line interior and exterior design enhancements. Sport and S line models also feature a fully automatic acoustic fabric hood which is insulated by three layers of fabric to mute road noise even more effectively.

All-weather traction for the open-top compact class

Sun-seekers who also want to enjoy their A3 Cabriolet at its best in less clement weather can also now opt for a 1.8 TFSI petrol model which offers the added reassurance of quattro all-wheel-drive. At the heart of the all-wheel drive system is a hydraulically actuated and electronically controlled multi-plate clutch which can send power from the front to the rear axle in just a few milliseconds. The clutch, which now operates without a pressure reservoir, weighs significantly less than the previous unit.

In the interest of better axle load distribution, it is located at the end of the prop shaft, in front of the rear differential. Inside it is a package of plates which rotate in an oil bath. During normal driving, the clutch sends most of the engine's power to the front wheels, but if they start to break traction it can transfer torque in varying degrees to the rear axle almost instantaneously by pressing the sets of plates together under control.

Peak torque increases from 250Nm in the front-wheel-drive version to 280Nm in the quattro, which combined with the optimal traction helps to bring about a slight improvement in the sprint time to 62mph from 7.8 to 7.6 seconds. Top speed is 145mph, and combined fuel economy stands at 42.8mpg with emissions of 154g/km

Greater choice of transmissions

The slick-shifting S tronic transmission is also now more widely available for the A3 Cabriolet, extending its reach to the 1.4 TFSI model with Cylinder on Demand technology and to the 150 PS 2.0 TDI. Carrying a premium of £1,480 over a manual equivalent in each case, S tronic can operate as a conventional automatic, albeit with exceptionally rapid gear shifts, but also allows drivers to shift gear with the central selector lever or with paddles on the steering wheel. When combined with the Audi drive select dynamic driving system (standard on Sport and S line), efficiency mode enables a free-wheeling function to further reduce fuel consumption.