Monarch take to the skies with new menu of onboard meals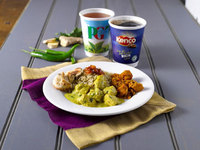 Monarch, the scheduled airline to leisure destinations will launch new on-board meals from the 1st May 2014. Designed by Alpha LSGs' Head Development Chef, Carl Jones who used feedback from Monarch customers, the meals take on a "world food" experience with dishes inspired by Italian, Moroccan, Thai and Indian cuisine – as well as the staple full English and sausage and mash! All new meals in the Monarch range now come with a complimentary PG Tips Tea or Kenco Coffee, which, normally retails on-board for £2.50.
Director of Customer Experience & Marketing, Tim Williamson comments: "We are excited to welcome our new on-board meals from the 1st May; from listening to our customers we have worked with Alpha LSG to devise a diverse menu, which takes influence from India, Morocco and Thailand alongside the much-loved English favourites. On-board meals are an extremely important part of our customer's inflight experience which is why we have made sure that only the highest quality ingredients are used."
All of Monarch's in-flight meals are cooked and produced utilising fresh ingredients in Alpha LSG's kitchens before being placed in blast chillers to freeze the meal to temperatures as low as -20 - the best way of preserving the freshness. From there, the meals are delivered under strict temperature controls to the aircraft before being heated in convection ovens on-board.
It is important to both the airline and Alpha LSG to utilise British produce where possible and many of the components of Monarch's in-flight meals are sourced from UK shores – including fresh vegetables, herbs and meat.
Monarch's new Suffolk Cider Braised Sausage dishes are not only braised in a delicious British Scrumpy, but the highest quality Gloucester Old Spot sausages are used.
The new Greek-style beef dish utilises the Featherblade cut of meat; a "foodies" steak and not a well-known cut. The Featherblade comes from the shoulder blade, so there are only two in every cow, but it packs lots of sweet flavour. The beef is then braised in a Shiraz red wine with fragrant spices such as cinnamon and all-spice to give a melt-in-the mouth Greek inspired taste.
Monarch's new Chicken Korma curry is produced in a non-traditional way as it doesn't contain nuts. Classically, a Korma is defined as a dish where meat or vegetables are braised with water, stock, yogurt or cream which are added before being mildly spiced to create a beautiful curry flavour.
Head Development Chef for Alpha LSG, Carl Jones comments: "There's so much thought involved in the production of Monarch Airlines inflight menu. It's really complex. There are two components to consider when creating an inflight meal; the actual 'hot meal' itself and the 'tray', to include supplementary items such as cutlery, condiments, desserts and snacks. Alpha LSG identifies market and high street trends as well as customer taste preferences and looks to include the best fresh ingredients to bring every meal to life".
Monarch's new menu will be available on board from 1st May 2014.