New load rated Calibre Boulevard alloy wheel set to adorn VW vans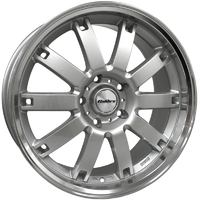 Wheelwright, UK wheel importer and distributor, has released details of a new, load rated addition to their 2014 van alloy wheel collection: the Calibre Boulevard.
The Calibre team have always demonstrated their 'commitment to the van market, delivering a comprehensive collection of suitably load rated van alloy wheels. This continues to be the case with their 2014 programme as they unveil the brand new Boulevard, pandering to the continued growth of the van market and, in particular, the Transporter/T5 scene. A robust design, the Boulevard features ten chunky, flat spokes reaching from a stout centre bolt area, forking squarely at the end as they meet with the deep, polished dish. This wheel is produced in both Silver/Polished and Black/Polished, making it at home on all T5s, no matter the colour.
The Boulevard has been developed with the T5 market firmly in mind, being made available in both 8.0x18" and 8.5x20" in the traditional 5x120 PCD and load rated to 885kg.

Prices are set to start from just £111 per wheel for this new van-ready Calibre design.
For more information, visit wheelwright.co.uk.