Region of Murcia serves up Spain's best kept secret for food and wine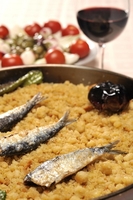 Food and wine lovers are being offered the chance to experience some of southern Spain's finest cuisine with fantastic gourmet breaks on offer in the Region of Murcia.

Foodies can indulge in local cuisine crafted from fresh Mediterranean produce sourced from the region's fertile farmlands. Chefs have a wide array of fresh fruit and vegetables readily available including lemons, oranges, tomatoes, lettuce, artichokes, broccoli and watermelons.

Cuisine is an essential part of the Region of Murcia's culture and there is always a friendly buzz in the numerous restaurants. The sociable atmosphere is complemented by an almost endless choice of tapas – modern interpretations of traditional dishes can be shared between friends and family.

Visitors should also not miss the chance to try the popular 'Caldero' – a local broth where rice is cooked in a cauldron with dried pepper and rock fish sourced from the Mar Menor.

To complement the local food, Murcia boasts three of Spain's protected wine regions: Yecla, Bullas and Jumilla. Robust and fruity red wines made from the Monastrell grape are often the most celebrated but the region also produces delicious white, rosé and dessert wines to tickle the taste buds.

Visitors can enjoy some of the best cuisine on offer with a gastronomy package at Hotel Monreal in Jumilla. Two people can enjoy a three-night, double-room package – including a wine tour and a chance to taste some of best local dishes – for just €210 (approx £173).

In addition, guests can choose from a large number of gourmet restaurants – all serving their own adaptations of the local food. The popular San Agustin restaurant offers a wide variety of unique and interesting tapas dishes as well as a delicious range of fresh fish.

When not enjoying the restaurants, visitors may wish to explore Murcia's Costa Calida, or warm coast, which has 252 kilometres of coastline, with 30 beaches boasting the acclaimed 'Q' Flag tourist quality mark and 26 beaches certified by the Blue Flag - more than any other region in Spain.

With an enviable sun record of more than 300 days' sunshine a year and an average summer temperature of 26°C, the Region is one of the finest places in Europe for a couple to unwind.

For more information or to make a reservation at Hotel Monreal, visit hotelmonreal.net.

To find out more about the Region of Murcia, visit murciaturistica.es.