Brits 'Don' the Mad Men look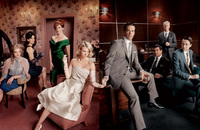 The return of the hit series, Mad Men, has prompted a retro revival in home, beauty and grooming purchases on Amazon.co.uk.
Since the airing of the first episode of the seventh season on April 16th 2014, Amazon.co.uk has seen week on week sales increases of products to help recreate the style of Sterling Cooper Draper Pryce.
Home:
Glass tumblers are up 241% week on week, influenced by Don Draper's signature cocktail - the Old Fashioned. Matching decanters have also risen by 38% week on week
Retro drinks trolleys have seen a rise in sales of 50% week on week, as customers recreate 60s style at home
Lava lamp sales are up by 26% week on week - the ultimate sixties home accessory
American whiskies are also up 20% week on week, the tipple of choice for the men and women of Sterling Cooper Draper Pryce
Women:
False lashes are up 92% and white nail varnish is up 45% week on week as women emulate Betty Draper's on trend style
Hair spray is up 86% week on week to recreate the hair-raising look of Betty Francis
Red hair dye is up 50% while décolleté cream has risen by 20% week on week with the curvaceous and ever glamorous Joan Harris back on our screens
Men:
Hair combs are up 100% week on week to help groom a sharp side-parting like Roger Sterling and Harry Crane
Hair gels are up 50% week on week to achieve the slicked-down smooth styles of Don Draper and Pete Campbell
"We regularly see TV shows influencing what people buy and Mad Men has taken this to a new level with the show influencing homeware as well as fashion and beauty. We can't go back in time but sixties Americana is well and truly swinging in a British living room near you," commented Xavier Garambois, Vice President of EU Retail at Amazon.

"The Mad Men inspired 60s renaissance has seen the UK adopting a bold, glamorous look for the home, replacing the neutral, minimalist style that has been popular recently," added Dave Brittain, Home Store at Amazon.co.uk. "The bestselling products demonstrate how influential the series has been, bringing back retro drinks trolleys, decanters and even the oft-maligned lava lamp."