Spain's unspoiled region of Murcia beckons spa-goers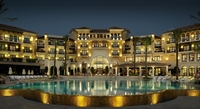 Holidaymakers looking to unwind this summer can take advantage of some fantastic spa packages in the charming Region of Murcia, Spain.
The Intercontinental Mar Menor Golf Resort & Spa, located just minutes from Murcia's idyllic Mediterranean coastline, boasts some of the finest spa facilities in the region. The temple-like 'Espa' features an indoor pool and a specially designed relaxation room for treatments.
The Mar Menor, where the resort is based, is Europe's largest salt-water lagoon and its calm waters and gentle tides provide the perfect environment for a relaxing swim.
Guests can indulge in a relaxation package, which includes a 40-minute aromatherapy treatment, for €99 per night (approx £80) based on two people sharing a room. Those who opt for the package will enjoy a deluxe room with a whirlpool, a buffet breakfast and unlimited use of the extensive spa facilities.
Just 20 minutes away from the resort, the Regional Park of Calblanque's jaw-dropping natural beauty includes an array of golden-coloured beaches, lonely coves, white salt lakes and mountain massifs that contrast with the blue sea.
Alternatively, for a perfect afternoon, visitors may wish to stroll through the ancient streets of Cartagena and enjoy the ancient Roman theatre and historic architecture.
For those looking to enjoy a round of golf, the resort boasts an 18-hole golf course designed by the legendary Jack Nicklaus.
The Region of Murcia, known as 'the Home of Sun', boasts an enviable record of more than 300 days' sunshine a year and an average summer temperature of 26°C.
For more information or to make a reservation at the Intercontinental Mar Menor Golf Resort and Spa, visit hotel.marmenorresort.com/en.
To find out more about the Region of Murcia, visit murciaturistica.es/en.