New small group safari bucket list from Acacia Africa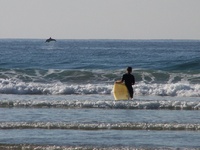 Acacia Africa is upping the travel tempo by introducing some exciting changes to its small group safaris. The new itineraries include fresh bucket list pursuits, from quad biking across the Makgadikgadi Pans, home to the continent's second largest migration, to riding the waves with dolphins in one of Africa's surfing meccas. As with all of the tour operator's trips there will be additional opportunities to meet with various tribes - music, dance and oral literature giving adventurers genuine insight into African culture.
Arno Delport, Sales & Marketing Manager at Acacia Africa comments "We cover 10 countries and a sizeable portion of the sub-Saharan region, but more importantly our team lives and breathes Africa. Whether its locating up and coming backpacker haunts, identifying the most extreme adventure or giving travellers the inside track on the tribal landscape we're always on the look out for new and exciting hotspots and activities."
South Africa's Wild Coast boasts consistent year round surf and Coffee Bay's exposed point break has great groundswell potential. A new addition to the 8-day Coast To Cape Town this location is a mecca for those who like hanging ten with dolphins, and home to David Malherbe*, a Pro-AM World Title holder. You can learn to surf with one of the many instructors he personally trains, or if you're lucky, book a lesson with the expert himself. The famous Hole In The Wall is only a two-hour hike from the backpacker haunt, surfers paddling through through the natural rock phenomenon and catching the waves. On the surface Oudtshoorn may appear to be a sleepy town, but it's packed full of adrenaline pursuits including a world first, crocodile diving. Nile crocodiles exert four times the pressure of a Great White shark when they bite, these ancient predators showing a much keener interest in underwater adventurers than their finned counterparts. The four-metre long reptiles stare into the cage for long periods their well-adapted ability to strike quickly and make dramatic kills making this a chilling experience. Time your trip to coincide with the sardine run and you might be able to witness the greatest gathering of predators on the planet (June through July); sharks, dolphins, Cape Ganets, cormorants, seals and Orcas, following the sardines north west as they head to the Indian Ocean. Starts Durban – ends Cape Town. Reverse itinerary available on the 8-day Cape Town To Durban. From £695pp (two sharing) + local payment from £66pp including transport, accommodation (3-nights twin share en suite rooms & 4-nights twin share rooms with shared facilities), most meals and services of a tour leader/driver.
An additional two days have been added to the Kruger, Swaziland & Durban small group safari, making this a nine-day adventure of epic proportions. New guided excursions to Rorkes Drift, Blood River, and the Talana Hills will place you right at the heart of some of the country's bloodiest battles; from the famous British encounter with the Zulus to the Boer War. You can also hike across the Drakensburg Mountains to view ancient bushman paintings and feel the rhythm of Africa in the Bothas Hills, an afternoon of traditional song and dance showcased by the Zulu tribe. A visit to the acclaimed Moholoholo Wildlife Rehabilitation Centre is not to be missed, the organisation's inspiring work already showcased on the National Geographic Channel. Starts Johannesburg – ends Durban. Reverse itinerary also available on the 9-day Durban To Kruger small group safari. From £795pp (two sharing) + local payment from £74pp including transport, accommodation (4-nights twin share en suite rooms & 4-nights twin share rooms with shared facilities) most meals and services of a tour leader/driver.
The new 11-day Delta & Chobe Waterways small group safari includes a chance to quad bike over the Makgadikgadi Pans, this remote location the setting for Africa's second largest migration. When the spectacle is in full swing thousands of zebra can be seen; the once arid expanse totally transformed with shallow streams, green foliage and pools of water. In the Okavango Delta, Acacia Africa has upgraded from two man dome tents to more comfortable "A" frame canvas accommodation making the tour ideal for families, and the trip delves into the heart of rural Botswana on a new Tswana village walk. After meeting with the village chief in the "Kgotla," a central meeting point for all residents a school and hospital visit follows, the tour ending at the home of the village Sangoma who will throw bones and look into your future. For those who have their heart set on gentle giant viewing, a nature walk at a remote elephant conservancy now compliments the itineraries original game drives in Africa's elephant capital, the Chobe National Park. Starts Livingstone – ends Johannesburg. Starts Johannesburg – ends Johannesburg. From £845pp (two sharing) + local payment from £490pp including transport, accommodation (9-nights twin share en suite rooms & 1-night twin share tents), most meals and services of a tour leader/driver.
All prices exclude return flight. Year round departures. All the above tours are suitable for children from eight years and there is no upper age limit. Prices for children and adults are the same. For more information, visit acacia-africa.com.