Volkswagen packages up new Crafter deal for Scottish parcels giant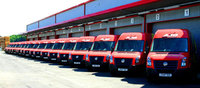 Volkswagen Commercial Vehicles is gearing up for a delivery with a difference thanks to a 30-vehicle fleet deal with AJG Parcels Ltd. The Inverness-based firm operates in the Scottish Highlands, Islands and Argyll, where its collection and delivery service is crucial for local businesses and residents.

The firm chose the Volkswagen Crafter for its famed reliability, low running costs and ability to deliver large volumes of goods in some of the UK's most remote locations in all conditions. Thanks to its flexible load area (up to 17m3) and heavy-duty payloads (up to 2,604kg), the Crafter was the perfect choice for AJG Parcels when it came to replacing its fleet.

The firm was founded 22 years ago as a husband and wife operation delivering just 20 parcels a day. Today, it boasts a 150-strong workforce and handles over 9,000 parcel deliveries plus 800 parcel collections every day with its delivery network spread throughout Argyll, Highlands and Islands.

Fraser MacLean, operations director at AJG Parcels Ltd, said: "Reliability is key in the parcel industry, where we constantly find ourselves working under time-critical conditions. This is why we had no hesitation in turning to Volkswagen when it came to updating our fleet.

"This order signals the final stages of a significant investment geared at updating over 25 per cent of our delivery vehicles with more up-to-date models. With a solid reputation for quality and dependability, combined with vehicles' residual values, Volkswagen was an obvious choice for our business."

Alastair Hemmings, national fleet manager, Volkswagen Commercial Vehicles UK, added: "The Crafter is the perfect vehicle for a firm such as AJG Parcels Ltd. It provides ample space for storage yet has been designed to be easily manoeuvrable to take the effort out of driving and parking – a real benefit for any delivery driver who is constantly in and out of the van.

"Offering the latest engine technology, AJG has a fleet of Crafters which in addition to reducing fuel consumption will help them reduce their carbon footprint."

For full details of the Volkswagen Commercial Vehicle range, visit volkswagen-vans.co.uk.