Monarch launch ergonomic aircraft seats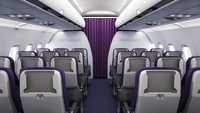 Monarch has announced the arrival of newly designed non-reclining ergonomic aircraft seats. Using modern design principles and light-weight materials, the airline has been able to increase legroom within a seat pitch and reduce fuel emissions.
Reflecting the needs of an increasing number of its customers, the airline's new seat design also includes an innovative tablet holder for the technology savvy holidaymaker, an aviation first. The seats benefitted from customer feedback which is enabling Monarch to provide a more comfortable travel experience. The new, non-reclining thinner design is similar to that used in the automotive industry.
Tim Williamson, Director of Customer Experience and Marketing comments: "Our new ergonomic seats have been designed with our customers' needs in the forefront of our minds. The new non-reclining design gives our customers far more "living space" than traditional seats, without the fear of the person in front impinging on their personal space."
"We noted from customer feedback that seat storage is particularly important. The new seats offer more flexibility than traditional 'pockets,' using the concept of the bungee cord the storage area can now comfortably fit water bottles, jackets and even kids' toys. The innovative tablet holder also enables our customers to create their own personal in-flight entertainment system."
The weight saving in the new design achieves significant savings on fuel and emissions. For instance, when compared with a set of Monarch's existing seats, a set of new seats on a flight to Egypt saves 255kg fuel, which is equivalent to 816kg of carbon dioxide saved on a single flight.