Enjoy the ultimate island honeymoon at Princesa Yaiza Suite Hotel Resort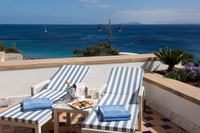 The five-star Princesa Yaiza Suite Hotel Resort on the idyllic sands of Playa Blanca offers newlyweds the ultimate romantic experience. Tailor-making every honeymoon package to perfectly suit each couple, the experts at Princesa Yaiza provide guests with an exclusive and luxurious experience that they will remember for a lifetime. After all the preparation and anticipation of the big day, a relaxing beach honeymoon is the perfect opportunity for couples to spend quality time together and to wind down as a newly-wed couple.

Honeymooners can stay in any of the specially prepared suites that overlook the picturesque manicured gardens, with spectacular views across to the nearby island of Fuerteventura. While away the days basking in the beautiful Spanish sun, lounging by one of the four adult swimming pools, experiencing the luxurious pampering treatments at the Thalasso Spa and enjoying romantic gourmet dinners overlooking the Atlantic Ocean at sunset.

Princesa Yaiza provides newlyweds with a very special honeymoon package, sure to give them the most perfect, memorable start to their marriage. Sure to be a wonderfully luxurious holiday, honeymoons at Princesa Yaiza offer guests the best possible start to married life.

Cuisine

With 5 fantastic restaurants, Princesa Yaiza's culinary offerings are second to none. Newlyweds can spend many romantic evenings sampling all the culinary delights on offer. The Isla de Lobos is an exclusive and gorgeous restaurant that combines delicious, honest Canarian food with spectacular views. The beautiful terrace area is the perfect setting for a romantic evening beside the sea under the stars. With Japanese and Italian restaurants also on offer, as well as the classic Spanish eatery, +Tapas, couples are spoilt for choice when it comes to dining out. The Spanish tapas culture is a wonderfully fun affair. Complemented by delicious Spanish wines, couples can enjoy fantastic cuisine while soaking up the island's lively, romantic atmosphere.

Thalasso Spa

The Princesa Yaiza Thalasso Spa is a haven of tranquillity. Highly professional staff offer a fantastic range of treatments, sure to relieve all the tensions built up during the wedding planning period. With certain sessions specifically created for couples, newlyweds can enjoy being pampering together. The Yaiza Paradise treatment lasts 60 minutes and consists of a soothing honeymoon bath followed by a relaxing 45-minute massage with jasmine flowers. The Princesa Yaiza package lasts an indulgent two hours, and offers couple an extensive session of treatments. A peeling rub with marine salts is followed by a hydromassage bath with colour therapy, and then rounded off with a relaxing 50-minute massage. Guests are sure to feel wonderfully rejuvenated and well and truly spoilt!

Beyond the fabulous food and spa treatments, there is still plenty on offer from Princesa Yaiza. From a lively game of tennis to a romantic stroll along the beach, there are endless ways for newlyweds to enjoy each other's company. Why not take a trip to the nearby village of Playa Blanca and explore the local area? Buy souvenirs at the market in Marina Rubicon, from quirky handmade goods to local wine. Adventurous guests can climb up to the dormant volcano, Montana Roja and enjoy the spectacular views across Playa Blanca, to the north of the island, as across to as far as Fuerteventura. Once at the top, sit back, relax, soak up the beautiful romance of the island and enjoy the first trip as a married couple.

Sovereign Luxury Travel (sovereign.com) has a seven night holiday to Lanzarote on offer from £949 per person. Departing 17 July 2014, the holiday includes an online booking discount, return flights from London Gatwick, airport lounge access, private transfers and a week at the five star Princesa Yaiza Suite Hotel and Resort on a B&B basis.

Honeymooners also get:
Room upgrade – subject to availability
Sparkling wine
Chocolates
Per adult & stay - one Voucher for A Thousand & One Nights Circuit with Biomarine Watercourse, Sauna and Steam Bath in the Thalasso Spa Center
Romantic Breakfast in the room, the day after arrival

Classic Collection Holidays (classic-collection.co.uk) offers 7 nights at Princesa Yaiza Suite Hotel Resort, Lanzarote from £999 per person in June (£1199 in July). Price based on 2 adults sharing an ocean view junior suite on a bed & breakfast basis and includes return flights from London Gatwick (other UK departure airports available) and private transfers.

Honeymooners receive complimentary chocolates and sparkling wine, thalasso spa circuit, romantic breakfast for two, plus a room upgrade to the next category subject to availability.

For further details or to book a family holiday, visit princesayaiza.com.