New Subaru WRX STI beats its own Isle of Man lap record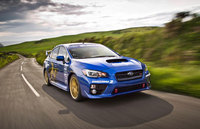 The Subaru WRX STI has once again broken the four-wheeled lap record around the famous Isle of Man TT circuit, with British rally champion Mark Higgins setting a new record of 19 minutes 26 seconds in a production version of the newly launched high-performance saloon.

Higgins's lap around the challenging 37.8-mile TT Mountain course saw him post an average speed of 116mph and a top speed of over 160mph.

Manxman Higgins completed his timed run under closed road conditions as part of the TT schedule and beat his previous record, set in 2011, when he set a time of 19 minutes 56.7 seconds. That was done at the wheel of the previous-generation WRX STI, breaking a record that had stood for 21 years.

As with the previous record-breaking car, the WRX STI used for Higgins's run was a standard Subaru production car (US specification), equipped with a 300ps 2.5-litre horizontally-opposed turbocharged Boxer engine.

The only modifications to the car involved the springs and dampers, which were adjusted to minimise any potential damage when the car encountered the course's many bumps and jumps at high speed. The WRX STI was also equipped with essential safety enhancements, including a roll-cage, race harness and fire suppression system and was fitted with Dunlop Derezza tyres.

Mark said of his run: "It was quite a lap we did today and I am really happy to have another record in the bank. The chassis of the new car is so much better it really allowed me to pick up time in each sector in the more technical parts of the course.

"There is nothing like the TT course in all racing. Not just because of its length but the elevation changes, constant surface variations as you shift from town to country roads and the fact we run from 30mph and then up to 160mph plus for much of the race."

The outright lap record on the TT course was set in 2013 by John McGuinness on a Honda CBR1000RR 'Fireblade'. McGuinness posted a time of 17 minutes 11.6 seconds, equivalent to an average speed of 131.7mph.

The all-new Subaru WRX STI is now on sale in the UK for £28,995 (on-the-road) – representing a price cut of £4,000 compared to the previous version of the car. To find out more about the new WRX STI, and Subaru's range of All-Wheel Drive models, visit subaru.co.uk.