Jeep sales still rising, even before new Cherokee arrives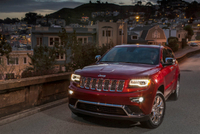 Proof of Jeep's rediscovered, but continued, popularity in the UK is illustrated in today's new car registrations figures for May.
The legendary 4x4 manufacturer registered 279 sales last month, the ninth consecutive monthly sales climb, and up 218 per cent when compared with the same period last year.
The largest model in the current Jeep range, Grand Cherokee, performed exceptionally well again, registering 184 sales – an increase of 207 per cent over May 2013, according to figures supplied by the Society of Motor Manufacturers and Traders (SMMT).
Clues as to how Jeep customers are funding their new purchases are given by Grand Cherokee finance figures, which reveal a 450 per cent rise in the number of people choosing this method – drivers clearly seeing the benefit of current zero per cent finance and three years' free servicing offers.
All this comes just as Jeep prepares to launch its new Cherokee mid-size SUV in the UK. The car, available in two- or four-wheel drive, with 140hp and 170hp diesel engines and with the choice of six-speed manual or nine-speed automatic transmission, goes on sale from 9 June 2014.
"The sales figures are fantastic news, not only for the Grand Cherokee, but for the Jeep brand as a whole," says Damien Dally, head of brand, Jeep UK. "We are delighted that more and more people are now turning to Jeep for their new car, and are doing it just as the brand really starts to ramp up its activities in the UK again.
"We know that there is still work to be done of course, but with new Jeep Cherokee just about to be launched here, and the new, small Jeep Renegade being readied for introduction early next year, we're confident that these sales figures will continue to climb as Jeep becomes a major player in the UK again."
The Jeep Cherokee range starts at £25,495 (OTR) for the 2.0 Longitude 140 6 Speed Manual FWD, rising to £35,695 (OTR) for the 2.0 Limited 170 9 Speed Automatic 4x4.