Crafty engineering saves time for van owners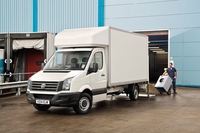 Astute van owners can increase their company's productivity by up to three weeks, according to a Hereford business.

South Hereford Van Centre has welcomed the arrival of the marque's all-new Crafter Luton van, reducing delivery time and hassle for commercial vehicles owners.
Charles Richards, Head of Business at South Hereford Van Centre, said: "The new Crafter Luton features a vast enclosed load space and has been introduced as part of the brand's Engineered-to-Go range. Its launch will help save valuable time for businesses that previously had to wait while a standard vehicle was converted to meets their needs.
"The van is based on the strong and adaptable Crafter chassis and has been designed and developed in partnership with a leading British bodybuilder, Ingimex.
"Time is money for our customers so by speeding up the process from ordering to delivery, the new Crafter Luton will certainly make a difference to businesses operational needs.
"And by combining all the usual Crafter qualities of reliability, ease of use, low running costs and the additional load space of 17m3 the Luton will give van owners even greater peace of mind."
The new Luton delivers class-leading payloads and a vast load cube. Constructed using GRP sides and bulkhead and a dip-painted and powder coated bolted frame, the finished bodies come already modified for the optional addition of a tail-lift. Standard features include a four-tier load restraint system, a high-strength shutter and rear foot step.
The load cube has an overall volume of 17m3, while the internal roof height is an impressive 2,120mm. The Crafter Luton is capable of carrying substantial loads and features a reinforced bottom plank to protect against movement of unsecured loads.
"The Volkswagen Engineered-to-Go range provides a collection of conversions that offer an off-the-shelf solution for van fleet operators," added Charles.
"The new Luton comfortably meets the latest European standards, and has been designed and engineered to meet Volkswagen's strict quality and durability controls and comes with a three-year warranty that also covers any factory-fitted add-ons, making it an ideal choice for commercial vehicles owners in the region."
The Crafter Luton range is offered in long wheelbase and comes with Volkswagen's 2.0-litre TDI engine with an output of either 136PS or 163PS.
For further information, visit southherefordgarages.co.uk.