High demand for new Castleward homes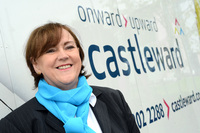 New homes at Derby's £100 million Castleward development are proving a big hit with home buyers, who are reserving off-plan to ensure they don't miss out.
Compendium Living, the developer behind Castleward, has announced that 14 homes have already been reserved off-plan by buyers wanting to be a part of this new community, while early bird interest is also high on the next phase of releases, which will include a number of apartments.
A limited number of two, three and four-bedroom homes are currently available at Castleward, which is located between Derby city centre and the railway station, but buyers are encouraged to act quickly if they want to secure one of the new homes.
Lynn Korczak, Sales Adviser at Compendium Living, comments: "The response to Castleward has been overwhelming and we're delighted with the feedback we are receiving from home buyers, who have been keen to reserve homes off-plan in order to secure their first choice of house style and plot.
"Everyone that has visited us to find out more is really excited about Castleward and the positive changes it is bringing to Derby.
"We're creating a highly desirable place to live and work, with modern, high quality new homes that will sit in an attractive area close to everything the city centre has to offer.
"The commercial units we are building alongside the new homes will also bring new amenities to the area, such as coffee shops, retail outlets and convenience stores, while the tree-lined boulevard will create a pleasant gateway from the railway station to the city centre."
Phase one of Castleward will see five acres of land transformed into 164 new homes, approximately 16,500sqft of commercial space, a boulevard and a park.
While construction on the development is still underway, Lynn is selling the new homes from Bagshaws, on Cornmarket, until the official launch of the Castleward show homes later this month.
As home buyers can only purchase off-plan, those wanting to find out more can take a virtual look inside the new homes thanks to the Castleward Mobile App, which can be downloaded from the Castleward website – castleward.co.uk – by visiting Lynn at Bagshaws Residential Estate Agents, on Cornmarket, or downloaded from the App Store.
After Derby was named one of the top 10 cities to invest in and one of the top cities to live in by the Sunday Times, potential home buyers have been showing even more interest in making the move to Castleward.
Lynn adds: "A number of big projects, including Castleward, are really helping to put Derby on the map and we're now seeing interest in these new homes come from around the country."
In total, Compendium Living will transform 30 acres of land between Derby Midland Station and the city centre, creating an attractive gateway into the heart of Derby.
Compendium Living was selected as the preferred developer by Derby City Council and the Government's Homes and Communities Agency.
Castleward is the country's second development project to achieve certification under the BRE Environmental Assessment Method (BREEAM) Communities following a voluntary assessment.
Visit Lynn at Bagshaws from Monday to Saturday to find out more about purchasing a home at Castleward. Alternatively, go to castleward.co.uk.