Keep your Skoda cool with a summer health check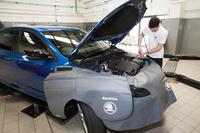 As the summer get-away ramps up, Skoda is offering a new, stress-free summer health check to ensure your Skoda is fully prepared for the holiday season and you can relax and enjoy the sunshine.

Available at many of Skoda's 134 retailers across the UK until 30 September 2014, the full Express Visual Check (EVC) is carried out by Skoda's fully-trained technicians working with Skoda-approved replacement parts.

As part of the summer health check, which costs just £25, every car will also receive a top-up of oil and washer fluids, battery and alternator check (with print out), cooling system performance check and a complimentary one-litre bottle of Castrol Edge Performance oil worth £18.50.

The thorough EVC will also ensure the vehicle is roadworthy. The comprehensive multi-point check focuses on areas that are most likely to have suffered wear and tear, such as:
Tyres
Wipers
Lights
Battery
All fluids
Oil
Exhaust
Brakes and hoses
Steering and suspension
Belts

Warren Richards, Head of Service & Parts Operations said: "With summer now upon us, many people are preparing to drive away for their annual holiday. We want to ensure our drivers have peace of mind that their vehicles are in perfect condition before they set off. Customers can rely on our fully-trained Skoda technicians to deliver an outstanding service and make sure it's a hassle-free experience. Customers can pre-book their service at a convenient location and arrange for car collection and delivery to suit them."

He adds: "The summer health check offers fantastic value to our customers – a simple and cost effective way for motorists to maintain their vehicles in between the recommended service intervals."