What's brewing in Soho: introducing Biju Bubble Tea Room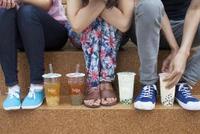 On August 6th, Biju Bubble Tea Room will open in Soho, taking bubble tea to a level of quality the capital has yet to experience. Created by entrepreneur, Nick Phan, Biju will serve several types of bubble teas from classic milk and ice teas and fruity milks to adventurous savoury mousse teas. A unique line made with vibrant coconut water blended with fruit juice nectars completes the range, which will be supplemented by regular seasonal specials.
All teas have been sourced from Taiwan, where bubble tea originates, and rigorously taste tested by Nick and his team. Each tea is freshly brewed to order rather than batch-brewed, resulting in a tastier, healthier drink, and will be made using fresh organic dairy products, dairy alternatives such as soy milk, and fruit juice nectars rather than substitutes or powders. The cult foodie favourite, Taro Milk Tea, is made with real taro and purple yams, giving it an authentic and distinctive flavour.
Consisting of twenty carefully curated drinks, the menu is compact and easy to navigate, though aficionados will be able to customise their drinks in a variety of ways. A selection of toppings will be available, including the classic tapioca pearls, various fruit jellies, and basil seeds which are renowned for their health benefits. Biju will also offer a range of healthy snacks, including Metcalfes popcorn and rice cakes, Divine Fairtrade chocolate, nuts, seeds and dried fruit. Bubble teas will start from £2.95.
The tea room itself boasts an innovative design, its original 'stepped seating' making elegant use of the space and providing room for twenty guests to comfortably enjoy their drinks. Drinks will be made and served in front of customers, bringing the theatre of cocktail-making to bubble tea.
Nick commented: "Bubble tea has long been a favourite of mine, and with Biju I am aiming to raise the bar, offering the highest quality product served in a fun and engaging environment. Whether our guests are huge fans or brand new to bubble tea, Biju will have a tea for them, and our friendly staff will help them discover it."