Monarch Airlines launches personal in-flight entertainment system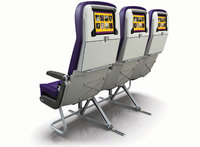 Monarch has announced the launch of MPlayer - an industry leading, personal inflight entertainment service. MPlayer allows customers to connect to the on-board wireless network via their own iOS or Android smartphone or tablet and access a wide range of free and pay-to-access in-flight entertainment content. Passengers will need to download the free MPlayer app to access the system before their Monarch flight; the app is available in the AppStore, GooglePlay and Amazon App Store.
Monarch Airlines are partnering with AeroFi; an innovative avionics technology company based in Milton Keynes to begin rolling out MPlayer across its fleet from this summer. AeroFi bring a simple, cost effective solution to on-board wireless streaming. Comprising of an aircraft server under the flight deck which stores all content and control software, wireless access points are then located throughout the aircraft. Installation of the system is carried out during the aircrafts scheduled maintenance checks by Monarch's sister company Monarch Engineering.
The MPlayer media bundle costs just £3.99 per person per flight, giving passengers access to: five blockbuster Hollywood movies, over 50 episodes of the best BBC Worldwide programmes spanning many genres to appeal to all ages and an extensive music library of over 50 albums from the summer's biggest hits through to must-have collections. Customers are able to browse information about the content before they make their purchase (the media bundle fee applies to each flight to access the premium content, including returning passengers).
In addition to paid-to-access content, free services include: digital versions of Monarch's two in-flight magazines Passport and duty-free magazine, Love to Shop; destination restaurant reviews from TripAdvisor and destination bar reviews provided by trend-setting socialites BarChick.
Tim Williamson, Director of Customer Experience and Marketing comments: "We are delighted to launch MPlayer for our customers this summer as the next innovation for the airline. We recently launched our non-reclining seats with integrated tablet holder and the launch of MPlayer compliments the new seats making it easier to use your device on board."
MPlayer is currently available on six aircraft operating across the Monarch fleet and the roll out will continue to the remainder of the fleet working alongside our sister company Monarch Aircraft Engineering Ltd as throughout 2014 & into next year.
Tim continued; "MPlayer has something for all ages, a perfect way to entertain the kids or catch up with top quality BBC comedies, dramas and documentaries. MPlayer's content will be refreshed regularly to make sure our customers have access to the latest programming whilst on-board."
The new innovation goes hand in hand with the release of our new seats back in May. The tablet holder in the seat back allows customers to watch their tablets or smartphones without having to hold them or use the tray-table.
Customers are encouraged to download the free MPlayer app before they fly. For those customers that are flying on any of the six aircraft we will be reminding them to download the app via email. However, anyone can go to the App Stores or monarch.co.uk/mplayer to read more about the service.