Jaguar Land Rover to debut three high performance models Pebble Beach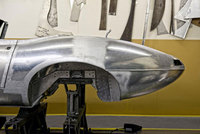 Jaguar Land Rover announces three product debuts will take place at this year's Pebble Beach Automotive weekend: the new 550HP Range Rover Sport SVR (global debut), the U.S. production version of the Jaguar F-TYPE Project 7 and the prototype of the new Jaguar Lightweight E-type – of which six customer cars will be built.

The Pebble Beach weekend gathers the world's top automotive aficionados, collectors and vintage racers together for a celebration of great performance, heritage and luxury automobiles.

All three vehicles will make their public debut at the Jaguar Land Rover Thursday night Pebble Beach Concours d'Elegance Kick-Off party at the Pebble Beach and Tennis Club and be shown throughout the weekend at various events.

All three vehicles are from Jaguar Land Rover's newly created Special Operations division which, under the leadership of Managing Director, John Edwards, will focus on designing and engineering high specification vehicles, bespoke commissions, heritage products and branded goods.

The Jaguar F-TYPE Project 7 and Range Rover Sport SVR are both from Special Vehicle Operations – the engineering and vehicle division of Special Operations – while the new Lightweight E-type is the first recreation from Special Operation's Jaguar Heritage team.

Jaguar will feature its full product line up at the Pebble Beach Automotive Weekend, including the all-new F-TYPE Coupe. A highlight of the weekend will be the US production debut of the F-TYPE Project 7, an all-aluminum, fully road-legal two-seater roadster with bespoke carbon-fiber aerodynamic aids. F-TYPE Project 7 is based on the 2014 Jaguar F-TYPE and features a Jaguar D-type inspired fairing, as this year marks the 60th anniversary of the iconic Jaguar D-type. The all-new Jaguar F-TYPE Coupe will also be on display at the Monterey Jet Center as part of the Petersen Automotive Museum's World's Greatest Sports Coupes Exhibit.

Land Rover will also feature its full product lineup, including the global debut of the Range Rover Sport SVR, the first model to wear the new SVR designation, which will be worn by all future high performance models. Throughout the weekend, Land Rover will also display the Range Rover Long-wheelbase, the Range Rover Evoque Autobiography and the "Great Divide" past and present 1990 and 2014 edition vehicles.