Why not attach a SsangYong to your 64 reg this autumn?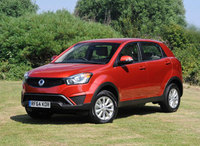 SsangYong presented a fully refreshed range for 2014, and with registrations up by some 154% on last year, is now one of the UK's fastest growing marques. With every car in the line-up being covered by an industry leading five year limitless mileage warranty and representing such great value, perhaps that level of performance is not so surprising.

"The SsangYong value proposition is increasingly being recognised," says Paul Williams, CEO of SsangYong Motor UK. "Never before has SsangYong had such a complete range - a line-up that includes SUVs, an MPV and three commercials, and all available with 4x4; no other value-brand comes anywhere close to offering such a wide choice to their customers."

The brand first arrived in the UK 20 years ago, and to celebrate 60 years of vehicle production, SsangYong has introduced two special limited editions, one based on its popular Korando crossover and the other on the Rexton W 4x4.
Rexton W
All Rexton W 4x4 models are currently being offered with 3 years free servicing. This includes the Rexton W SX, EX and EX automatic models as well as the CSX commercial, and registered by 30th September 2014. See notes.

Combined with the existing market leading 5 year limitless mileage warranty that protects all SsangYong cars, this brings three years free servicing (or three services, whichever comes sooner), giving customers complete peace of mind.

The Rexton W range is also currently available with 0% finance from participating dealers. See notes.

Built on a steel ladder chassis and with a 3 tonne towing capacity, the new SsangYong Rexton W is a serious off-roader and tow-car, yet with all the equipment and creature comforts expected of an urban cruiser. It is powered by SsangYong's own 2.0 litre Euro 5 turbo charged e-XDi200 diesel engine.

Taking the Rexton EX specification, the special 60th anniversary edition adds front parking sensors, an electric sunroof, heated seats front and rear, a power adjustable passenger seat, DAB sat nav and is finished in pearl white lily metallic paint.

Available with either 6-speed manual or 5-speed Mercedes-Benz T-Tronic automatictransmission, prices range between £21,995 and £27,495, with the commercial at £18,495 (ex VAT).
Korando crossover
The Giugiaro designed Korando is already noted for its great value, high level of equipment, interior space and 2 tonne towing capability - the Korando SE won The Caravan Club Towcar of the Year Award 2014 for vehicles under £16,000 - and been given a makeover inside and out, as well as enhanced driving refinement.

Externally, the front received an all-new treatment that included a slimmed down, black mesh radiator grille, contemporary projection headlights and LED daytime running lights, while the interior was given a significant re-design that included a completely revised dashboard. Great advances in reducing NVH (noise, vibration & harshness) have also been made.

The new Korando is powered by a modern yet well-proven 2.0-litre Euro 5 turbo diesel engine. There is a choice of power outputs, manual and automatic transmission, and two wheel drive or 4x4.

Based on the four wheel drive Korando ELX4, the special 60th anniversary edition adds 18" diamond cut wheels, an electric sunroof, rear spoiler and chrome detailing, and is completed with a pearl white lily metallic paint finish. It is available with either manual or automatic transmission.

Korando prices start from just £14,995.

Turismo MPV
The new SsangYong Turismo is almost without competition. At over 5 metres long and with a 3 metre wheelbase, the car is larger than a standard sized MPV, yet is a car rather than a van-derived 'people carrier'.

Consequently its huge interior space and flexible passenger and load carrying capability means it can carry seven adults and 875 litres of luggage, through to two adults and 3,146 litres of load space.

Designed to appeal as family, leisure and business transportation, this new car blends multi-role flexibility with great ride comfort and the appointments and equipment levels of a luxury saloon.

The Turismo is powered by SsangYong's 2.0 litre turbo charged e-XDi200 diesel engine, and there's a choice of 6-speed manual and 5-speed Mercedes-Benz T-Tronic automatic transmission, and with the EX model, selectable 4x4 with low ratio as standard. All models offer an impressive 2.5 tonne towing capability, and prices start from just £17,995.

Korando Sports pick-up
The Korando Sports brings a new level of refinement to the pick-up market, blending the suspension, engine and cabin finesse of a passenger car, with the silhouette, space and seating for five that's typical of a double cab, and the rugged workmanlike ability of a commercial pick-up.

This new Korando Sports will appeal to those who need a working vehicle, the practicality of 4 wheel drive, the towing capability to haul up to 2.7 tonnes yet also the appointments of a family car.

There are two models to choose from, and both are extremely well appointed with equipment such as alloy wheels, tinted glass, air conditioning, leather covered steering wheel, remote central locking, Kenwood MP3 CD & RDS radio with a USB & auxiliary port and Bluetooth connectivity.

Delivering both performance and economy - up to 37.7 mpg on the Combined Cycle, Korando Sports is powered by SsangYong's latest 2 litre Euro 5 diesel.

The Korando Sports is keenly priced and comprehensively equipped from £15,042 ex VAT / £17,995 inc VAT, and there are three hard tops available.

5 year limitless mileage warranty

All models in the SsangYong range are covered by a best-in-class 5 year limitless mileage warranty. Designed to be totally transparent and give customers complete peace of mind, 'limitless' means just that: not a maximum mileage condition that some brands impose in their small print. All the major mechanical components are covered including wheel bearings, suspension joints and bushes, steering joints, shock absorbers and even the audio system. Wearable components such as clutch discs and brake friction materials which could have their life reduced by poor driving are covered for one year or 12,000 miles, and the battery and paintwork for three years.

SsangYong

SsangYong cars are manufactured in South Korea by SsangYong Motor, which is 73 per cent owned by the Indian engineering conglomerate Mahindra & Mahindra, and imported into the UK by SsangYong Motor UK. Established in 1954 it is Korea's oldest vehicle manufacturer and only 4x4 and SUV specialist producer.

There are currently some 60 SsangYong dealers covering England, Northern Ireland, Scotland and Wales, with new locations being added to the network all the time.

Range
Rexton W - seven-seat off-roader with selectable 4x4 from £21,995
Korando - crossover line-up with 2 or 4-wheel drive from £14,995
Turismo - spacious seven-seat MPV available with rear or all-wheel drive from £17,995
Korando Sports pick-up - a rugged 4x4 double cab pick-up with the finesse of a passenger car from £15,042 ex VAT / £17,995 inc VAT

Further information is available from: ssangyonggb.co.uk