Avenue launches exclusive Radiance Cleanse Juice Bar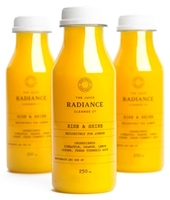 From August to October, luxury cold-pressed juice company, Radiance Cleanse, is popping-up at Avenue restaurant for three months. Complementing Avenue's new breakfast and brunch offerings, four 100% organic Radiance Cleanse juices are available to buy at the restaurant, either to take-away or sit-in and enjoy.
Exclusive to Avenue, Radiance Cleanse fruit and vegetable juices are the first Soil Association certified organic juice products in the UK. Boasting flavours including Chloro Coco: coconut water with liquid chlorophyll; Vital Green: cucumbers, apples, limes, spinach and parsley; Deep Roots: courgettes, apples, fennel, lemons, broccoli and beetroot; and a fourth bespoke flavour created especially for Avenue, Rise and Shine: pineapple, orange, lemon, ginger and turmeric root, the new juice menu is a nod to the popular cold-pressed juice offering in New York and the growing healthy eating trends in London. Guests are able to enjoy the drinks alongside Avenue's breakfast, brunch and lunch menus, while in the evening, restaurant and bar guests are able to try the juices in one of Avenue's four unique juice-infused cocktails especially created by Avenue's skilled bar team. Cocktails include Deep Roots Bloody Mary, a blend of the Radiance juice with Avenue's house Bloody Mary mix and vodka, and Empire State of Mind, mixing green apple with apple juice, elderflower cordial, fresh mint leaves and the Chloro Coco water, and are perfect alongside Avenue's new 'Bar Eats' menu, featuring dishes such as Watermelon salad with cucumber, mint and goat's cheese and Crispy soft shell crab bun.
Avenue is the only restaurant and retail stockist of Radiance Cleanse in the UK, launching the high quality, organic vegetable juices to go with its new breakfast and brunch menu. Dishes include a range of eggs and omelettes, including Eggs Espanoles with spice tomato, chorizo and organic yogurt and Frittata Bianca, egg whites with Parma ham and roasted Pequillo red peppers and 'Great American' breakfast dishes such as Sausage gravy and cheese grits with Southern-style biscuits and Homemade French toast with maple syrup and streaky bacon. The juices are a fresh, unique addition to both Avenue's menu and Mayfair alike, offering the perfect healthy start to the day and a unique spin on pre-dinner and late night cocktails.