Travel interest to New York City up 27% following Made in Chelsea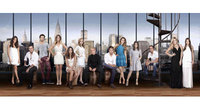 Hotel searches to New York City have increased by 27 per cent following the new series of Made in Chelsea NYC, according to hotel search website trivago.co.uk.
The six-part series sees the usually London-based cast move to New York City for the summer. The first episode aired on E4 on Sunday night. As a result, searches made by UK travellers on Monday 11th August had increased by 27 per cent in comparison to the week before (Monday 4th August). Searches were for travel during the upcoming month.
This rise in searches decreased as the travel period lengthened. When the same two Mondays were compared, searches for travel over the following 3 months increased by 20 per cent and the following 6 months increased by 16 per cent.
Those wanting to live like the Made in Chelsea cast may have picked the most expensive time of year to do so. Although one night in the Big Apple this August will cost an average of £187, September, October and December are typically the most expensive months. Last year, one night in September cost an average of £273, October £274 and December £252.
Denise Bartlett, UK Public Relations: "Although New York City is always a popular choice among UK travellers, shows like Made in Chelsea tend to glamourize the destination. By showing the best bars, restaurants, cafes and nightclubs, it is unsurprising that viewers would want to take this one step further and begin searching online for hotels. There are plenty of luxury accommodation options in New York City, making it an ideal destination for Made in Chelsea fans.
However, although searches were up by 27 per cent over the following month, this decreased to 20 per cent over the next 3 months and just 16 per cent over the next 6 months. This suggests some users were merely browsing, rather than booking trips to the city. For example, following Germany's World Cup Victory searches to the country were initially up by 24 per cent – but this had more or less returned to normal within one week. It is too early to say whether New York City will see a long-term tourism benefit from E4's latest offering."