Volkswagen Commercial Vehicles makes waves with Sunseeker International deal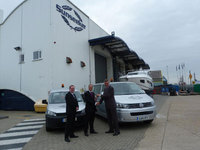 Volkswagen Commercial Vehicles has signed a deal with Poole-based super yacht manufacturer, Sunseeker International, to supply eight new vans. The contract includes a mixture of Volkswagen Transporter and Crafter models.

The new vehicles will be used to transport yacht parts and personnel, and will replace Sunseeker's existing commercial vehicle fleet. The first vehicles were delivered in July.

All eight vehicles have been supplied on a five-year service and maintenance contract hire agreement with Volkswagen Group Leasing, with support from Sunseeker's local Volkswagen Van Centre, Breeze, located in Poole.

Mark Garside, transport manager at Sunseeker, commented: 'Volkswagen Commercial Vehicles is renowned for its efficiency and reliability so the decision on which vehicles to choose was easy. However, selecting a partner to supply and maintain the vehicles while sticking to a budget was harder. From the start I was aware of the benefits of going with a local Van Centre but the fact they provided a very competitive finance package with aftersales care sealed the deal.'

For full details of the Volkswagen Commercial Vehicle range visit volkswagen-vans.co.uk.