Early opening launched at Wrexham Van Centre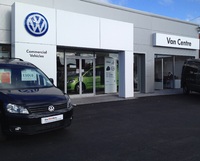 A Wrexham van centre has announced plans to open even earlier, five days a week, in a bid to make life easier for their customers heading off to work.

Volkswagen Van Centre Wrexham will open its servicing department from 7.30am, Monday to Friday from 1st September, with the aim of improving its service offering for van owners. The Rhosddu Industrial Estate business previously opened at 8.30am Monday to Friday.

The early morning openings will be available for a two-month trial period with a view to it becoming standard.

Dave Harries, service manager at Volkswagen Van Centre Wrexham, said the move would make servicing more available and help to reduce customer downtime.

He said: "The new opening times are all about working with our customers and providing them with greater flexibility.

"The van is a vital part of their business but it needs to be serviced to maintain its condition and performance. The extra hour will give customers the option to get their vehicle serviced before they start work or, at least, reduce the impact on their working day."
The new service operates alongside the Volkswagen Commercial Vehicles van centre's existing collect and delivery, courtesy vehicle and while-you-wait service.
Dave added: "We are continually looking at ways in which we can improve our service and strengthen our partnership with our customers. The suggestion for early morning starts came from feedback, so we are delighted we meet this request."
To take advantage of the new serving opening times, call Volkswagen Van Centre Wrexham on 01978 253 020.