MG 90th Anniversary Limited Editions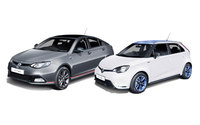 MG 90th anniversary Limited Edition MG3 and MG6 vehicles are selling like hot cakes, with most of the 90 vehicles already sold out. MG has confirmed that if all 90 vehicles are sold within 90 days, one lucky customer will go on to win an MG3.
The MG 90th Anniversary Limited Editions were launched at the MG90 event at Silverstone in June this year, where the Midlands based manufacturer celebrated 90 years of the iconic marque. Over 15,000 enthusiasts attended the event which featured the CS and EV concept vehicles and a collection of current production and historic MGs.
The MG3 90th LE is built on the top of the range 3STYLE spec, which features rear parking sensors, cruise control, DAB digital radio and easy electric air conditioning as standard, and adds unique 16" Blue Diamond wheels, 90th Anniversary embroidered headrests, unique MG logo roof decal, "Pinstripe" cant rail graphic and gloss black and red interior details. The MG3 90th LE is available in White on the Tiles, Smokey Blues and Silver Fox colour options.
Launched in September 2013, the MG3 benefits from an ultra low 4E insurance group, strong residuals of up to 61 per cent, exceptional interior and boot space, class leading chassis and driving dynamics and high levels of equipment on all specifications as standard. There are also over one million personalisation options and exceptional value for money aftercare packages to choose from. The MG3 is priced from only £8,399 to £9,999, or on PCP with zero percent deposit or from only £99 a month.
The MG6 90th Anniversary LE is built on the top of the range TSE spec which features sports seats, rear parking sensors, cruise control and full colour sat nav with a lifetime subscription to Trafficmaster as standard. The MG6 90th Limited Edition adds unique 18" Matte Black Wheels, 90th Anniversary embroidered headrests, gloss black roof, red pinstripe body detail, chrome side vent and gloss black interior details – available in Granite Grey Metallic and Platinum Silver. Further details on both the MG3 and MG6 90th Anniversary Limited Editions are available via mg.co.uk/vehicles/mg-90th-le/
MG has been the fastest growing automotive brand in 2014 for seven months running, with success due to the recent launch of the MG3 supermini and expansion of the MG6 diesel powertrain family, with a new 129g, 350 Nm performance diesel recently added. Voted by customers as the winner of Best Handling and sixth overall Best Car to Own in the 2014 Auto Express Driver Power Awards, the MG6 is already a favourite with MG owners for its drivability, affordability and exceptionally high levels of equipment included as standard. Now the MG6 is even more appealing as all specifications are available from just £15,455 to £19,995, and with the current 'High 5' offer, MG6 customers can buy and drive away with complete peace of mind.
Last week, MG's rapidly expanding dealer network was announced as eighth best overall, and second for value of money, in the Auto Express Dealer Power Car Dealers Best and Worst survey. Since November 2013, 22 new MG dealerships have opened in the UK. Further new dealer appointments will be announced shortly, as MG plans to have around 80 sales dealerships on board by the end of the year, these will be supported by the further network of 13 MG after sales specialists.