Mercedes AMG Petronas formula one car set to race the runway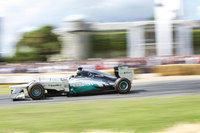 On Thursday 4 September, a different kind of winged flying machine will be accelerating hard down the auxiliary runway at Edinburgh Airport. A Mercedes AMG Petronas Formula One car is set to take part at Race the Runway – an epic charity drag race organised by, and benefiting, the Glasgow-based Prince and Princess of Wales Hospice.
For the second year, Mercedes-Benz is sponsoring the event, which invites owners of high-performance cars of all makes and models to test their cars without fear of being booked, on the extensive runway at Edinburgh Airport. In return, they just need to make a donation to the Hospice.
Seven AMG road cars, with a combined power output of over 3,000 hp, will be heading to Scotland to take part: From the mightiest hot hatch of them all, the A 45 AMG to the new, 360 hp GLA 45 AMG; the C 63 AMG Black Series; the fastest E-Class on the road – the E 63 AMG S Estate; the SL 63 AMG Roadster and the gullwing SLS AMG Black Series.
The ultimate addition to the runway will be the Silver Arrow Mercedes AMG Petronas F1 W03 Formula One car – driven in 2012 by seven-time Formula One World Champion Michael Schumacher, and raced to victory by Nico Rosberg in the 2012 Chinese Grand Prix. Piloted on the day by Team Development Driver and Sky Sports Presenter Anthony Davidson, spectators will witness the full power of the Brixworth-built V8 engine, developing up to 750hp as it powers the F1 W03, weighing just 600 kg, on racing slick tyres.
Taking the form of a series of heats, the event attracts supercars from all over the world – with the fastest car from each heat progressing to the next stage. Last year, the finalists were achieving around 180 mph on the runway.
The rest of the airport remains open throughout the drag races – lending the event a dramatic spectacle for pilots and plane passengers alike as aircraft taxi to and from the Terminal buildings.
"We're delighted to be back at Race the Runway," said Rob Halloway, Communications and Events Director Mercedes-Benz UK. "It's great fun and a real privilege to thunder along the tarmac at take-off speeds in a car – and of course it's all perfectly legal!
"But best of all this remarkable day raises awareness and funds for a terrific cause – the Prince and Princess of Wales Hospice. I'm certain that when Ant Davidson gets behind the wheel of the Formula One car it'll be unlike anything seen before at Edinburgh Airport, and a real magic moment in the story of the Silver Arrows."
More information on the work carried out by the Hospice can be found at ppwh.org.uk