Knee defenders? Monarch have a simple answer - non-reclining seats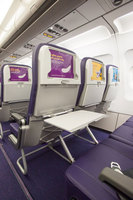 As recently reported in the media, knee defenders are the new must-have accessory on-board to keep 'recliners' at bay. Whilst other airlines' are now banning the gadgets, Monarch Airlines have a simple solution, non-reclining ergonomic aircraft seats.
The seats launched in May this year in response to customer feedback; reclining seats were deemed unnecessary and a bone of contention on short-haul flights. Using modern design principles and light-weight materials, the airline has been able to increase legroom within a seat pitch and reduce fuel emissions.
Tim Williamson, Director of Customer Experience and Marketing comments: "Our customers' in-flight experience is of the utmost importance to us. Knee defenders may seem quite drastic, but this was a real bugbear for our customers. We listened and the feedback was that reclining on short-haul flights is just not necessary.
"The new ergonomic non-reclining design gives our customers far more "living space" than traditional seats, without the fear of the person in front impinging on their personal space."
Reflecting the needs of an increasing number of its customers, the airline's new seat design also includes an innovative tablet holder for the technology savvy holidaymaker, an aviation first.
Williamson continues: "The innovative tablet holder also enables our customers to create their own personal in-flight entertainment system. At the beginning of this month we launched MPlayer; a personal inflight entertainment service. MPlayer allows our customers to connect to the on-board wireless network via their own iOS or Android smartphone or tablet. There they can access a wide range of free and pay-to-access in-flight entertainment content."