Skoda celebrates the arrival of the new Fabia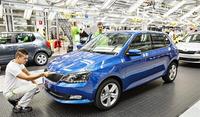 Reason to celebrate: Under the header 'Welcome New Fabia', the first third-generation Skoda Fabia rolled off the production line at Skoda's parent plant in Mladá Boleslav. The production staff gave the first car – a Fabia in 'Race Blue' – a standing ovation as it passed the final inspection. The completely newly designed Skoda Fabia wows with its emotionally-rich design language, innovative safety, comfort and infotainment systems from higher car segments, as well as with its low consumption values. Market launch will be in November.
"The start of production for the new Skoda Fabia is another milestone in our model and production campaign," says Skoda Board Member for Production Michael Oeljeklaus. "It's always a big moment when the first vehicle of a newly developed model rolls of the line. This particularly applies to the new Fabia, as this great car is an important pillar in Skoda's growth strategy. Our teams from Development and Production have put in meticulous and intensive preparation and commitment to get the small car up and running – a car that will set new benchmarks in its segment," says Oeljeklaus. Ahead of the production start for the Skoda Fabia, extensive adjustment and refurbishment work has been completed at the Mladá Boleslav factory; all carried out during the factory holiday which ended mid-August. 40 companies specialised in production technology along with hundreds of experts have been involved in the process.
The new Skoda Fabia is 'simply more car' in every respect. The third-generation Fabia demonstrates as the first production car how Skoda's design has developed into a more expressive and emotionally-rich design language. Smooth proportions, crystalline shapes and clear-cut lines make the new edition stand out. In addition, the new Skoda Fabia provides much more scope for customisation than ever before, inside and out.
What's more: small car, big on technology. The new Skoda Fabia has been given innovative safety, comfort and infotainment systems from higher vehicle segments. For the first time, a Skoda can easily be paired with a smartphone via MirrorLink™ technology. The completely new range of engines also sets new benchmarks, making the third-generation model the most ecological and economical Skoda Fabia of all time. Compared to the previous model, the new Fabia uses up to 17 per cent less fuel.
In typical Skoda style, the new Fabia also impresses with its generous space and numerous 'Simply Clever' features, up to nine of which are new.
With a completely newly developed, third generation model, the manufacturer wants to continue the Skoda Fabia's impressive success story. Having sold approx. 3.4 million vehicles to date worldwide, the Skoda Fabia is the Czech brand's bestselling car after the Skoda Octavia. Between 1999 and 2006, a total of 1.8 million first-generation Fabias were sold. From 2006 to date, Skoda delivered around 1.7 million second-generation Fabias to customers.