D-type leads parade of Jaguars at the 2014 Goodwood Revival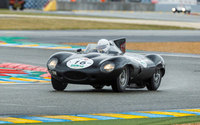 Jaguar will have a major presence at the sell-out 2014 Goodwood Revival, with the Lightweight E-type making its European debut at the event, and the new F-TYPE Project 7 also being presented in the Earls Court Motor Show exhibition.
The 60th anniversary of the legendary Jaguar D-type will be marked in style at Goodwood. On Saturday 12 September, the Lavant Cup race will be dedicated to the D-type with more than 20 examples of this legendary competition Jaguar competing in the first-ever motor race devoted entirely to the D-type. Ex-Jaguar Le Mans winner Andy Wallace will be competing in a 1955 'long-nose' D-type alongside some other familiar faces, including fellow ex-Le Mans winner Derek Bell.
On Revival Friday and Sunday, a spirited parade of D-types will take place around the Goodwood circuit, with a record number of examples of the racing Jaguar gathered in one place.
Following its recent unveiling at Pebble Beach, where it wowed the spectators, the Lightweight E-type continuation model – being built at Browns Lane by the new Jaguar Land Rover Special Operations – will make its much-anticipated European debut at the Goodwood Revival. Following its launch at the Festival of Speed a few weeks ago, the new F-TYPE Project 7 by Jaguar Land Rover Special Operations will return to Goodwood, being exhibited within the popular Earls Court Motor Show at the Revival, as will the stunning Jaguar F-TYPE R Coupé.
In addition, another 25 or so Jaguars and Jaguar-powered cars will be competing wheel-to-wheel at the unspoiled Goodwood motor circuit over the Revival weekend, with racing C-types and E-types, plus Mark I and Mark VII saloons out in force.
Away from the excitement of the on-track racing, numerous historic Jaguar models will be present at Goodwood too, with team support cars dotted around the scenic paddocks, and examples of almost every classic Jaguar model parked-up in the huge Revival Car Show car park for pre-1966 vehicles, based just over the road opposite the main Goodwood circuit entrance.