Swarovski extends "Swarovski for Samsung" Collection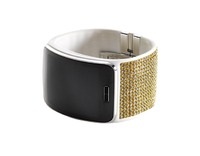 Samsung and Swarovski release the Samsung Gear S Strap, the latest addition to its "Swarovski for Samsung" collection. This exclusive collaboration represents a distinctive union of Swarovski craftsmanship and Samsung technological expertise. The stylish Gear S Strap adds a striking radiance to the Samsung Gear S, the most up-to-date smart wearable device enhancing the smart wearable experience.
"One of the key aspects in wearable devices is providing diverse options for consumers to freely express their own taste and style," said Younghee Lee, Executive Vice President of Global Marketing, IT & Mobile Division at Samsung. "Our ongoing collaboration with Swarovski as demonstrated in the new Gear S Strap, allows us to stay ahead of trends and on the cutting-edge of design and style."
The Samsung Gear S Strap is adorned with Swarovski cut crystals that perfectly complement the chic, curved design of the Gear S. It is made with a completely new Swarovski product, Crystal Fine Mesh, just launched in September 2014. This new innovative product integrates the crystals directly into the Strap's metal mesh making it one of the most exclusive products in the Swarovski assortment. Swarovski's Crystal Fine Mesh is already being used by top brands in the fashion industry. This unique accessory provides Samsung Gear S users with an exclusive opportunity to revel in fresh forms of self-expression through their wearable device.
"Samsung and Swarovski share a commitment to bringing high-quality, highly desirable products to the consumer market," said Christoph Kargruber, Executive Vice President Global Marketing, Swarovski Professional. "Together we will continue to write the success story we began with the 'Swarovski for Samsung' collection."
The Swarovski Gear S Strap will be available on the Samsung online store and at experience stores starting in October. In addition, the "Swarovski for Samsung" collection will further expand with back covers for Samsung's next flagship device.