Caterham to contest historic Brighton Speed Trials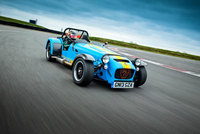 Caterham will compete at the famous Brighton Speed Trials event for the first time in seven years on Saturday 6 September.
The manufacturer's return to the unique seaside sprint event will see the Seven 620 R deployed at the hands of experienced racer, Scott Mansell.
The two-seater sportscar, launched last year, is the most extreme variant of the Seven to date. With its two-litre supercharged engine, boasting 310bhp, it is capable of reaching 60mph in just 2.79 seconds.
The event is acknowledged as one of the longest-running motor races in the world, with the first event taking place in July, 1905.
One of over 200 high-performance vehicles from several categories, the Seven 620 R will be vying to be the fastest in the road-going production class. The six quickest vehicles across all classes will compete in the top-6 run off.
Mansell, 28, has 20 years of motorsport experience; he still holds fastest lap records at the UK's Donington Park, Silverstone National and Brands Hatch Indy circuits.
Professional racing driver and Business Development Manager of The Caterham Experience, Mansell, said: "The Brighton Speed Trials is a special event. Its location, literally next to the sea, is unlike any other race in the world – it is motorsport heaven for any enthusiast and a very impressive spectator sport. With the Seven 620 R, I am hoping to be right up there in our category. I will be focussed on the win, but we are there to enjoy ourselves too."
Priced from £49,995 (incl VAT) fully built, the Seven 620 R sits at the top of the current range of Seven's.
For more information, visit caterhamcars.com.