Mercedes-Benz dealer oversees oil change on used car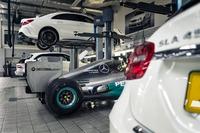 Mercedes-Benz dealers are used to seeing a pretty diverse range of models come through their doors as owners seek out their expert advice and skills to keep their cars running sweetly.
Even with this in mind, Mercedes-Benz of Edinburgh had their expertise tested when a low mileage used car with a chequered past arrived needing an oil change.
The customer, the MERCEDES AMG PETRONAS Formula One Team, requisitioned workshop space to fettle the F1W03 car ahead of its appearance at Race the Runway. The chassis, from the 2012 season, raced in the German, Hungarian, Belgian, Italian and Singapore rounds of the Formula One World Championship. Designed and built at the home of MERCEDES AMG PETRONAS in Brackley, the chassis is powered by a mighty naturally-aspirated V8 engine created by the engineers at Mercedes High Peformance Powertrains, based in Brixworth.
Graham Affleck, Market Area Director, Mercedes-Benz of Edinburgh 'We do our very best to help all of our customers – and that includes those with rare or high performance Mercedes-Benz cars that maybe don't come along every day. As Mercedes-Benz go, the example in our workshops right now doesn't get much rarer or faster. Our customers collecting their new 64-plate cars seemed pretty intrigued – it's nice to show we're all part of one big family.'
The last minute preparations of the F1W03 were carried out as the team readied itself for the Race the Runway charity event – held at Edinburgh Airport – and benefitting the Prince and Princess of Wales Hospice. Taking the form of a series of drag races, the event will see high performance cars – including the SLS AMG Black Series and the A 45 AMG – go head to head. For the second year in a row, Mercedes-Benz is sponsoring the event.