Unique Cottages' locations star in new Billy Connolly film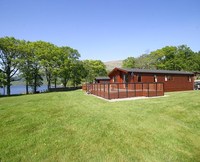 What We Did on Our Holiday – a humorous and touching drama filmed in Scotland and starring Billy Connolly – is released on 26 September.
The film, also starring David Tennant and Rosamund Pike, relates the story of two bickering parents - and their three outspoken children - as they head north to Scotland to celebrate what a terminally-ill granddad, played by Bill Connolly, suspects will be his last birthday.
The film was almost entirely shot in Scotland and breathtaking filming locations include the Loch Lomond National Park, the beaches around Gairloch in Wester Ross and Loch Katrine in Stirlingshire.
For those inspired by Scotland's dramatic coastal and countryside scenery showcased in the film, Scottish cottage agency, Unique Cottages, is a specialist cottage agency offering more than 400 properties in stunning locations including a selection in the Loch Lomond National Park and Gairloch.
For example, in the Loch Lomond National Park – on the edge of the loch itself – is Loch Lomond Lodge, with superb uninterrupted views across the water and set at the foot of Ben Lomond. The property, which sleeps six, has an open-plan living area, three bedrooms (one en suite), a separate bathroom and a sauna. A seven-night holiday in October is priced from £595, or from £495 in November (discounts apply for smaller parties).
In a glen above the village of Gairloch, which is situated on a sea loch of the same name, is Flowerdale Cottage, a superb property sleeping up to eight in five bedrooms. This spacious house also has a sitting room with wood-burning stove, a dining room, a kitchen and two bath/shower rooms, along with a walled garden. Numerous beaches are within walking distance and some of Scotland's best-known mountains are close by. A week in November costs from £575.
For more information, visit unique-cottages.co.uk.