Cork Jazz Fest: travel and stay package from Irish Ferries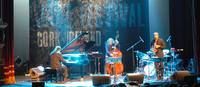 The 2014 Cork Jazz Festival – sponsored by Guinness – is held over five days from 23 to 27 October, with top-selling singer Imelda May expected to fill Cork Opera House on the first two nights of the festival.
From Detroit, Carla Cook and her quartet play at The Everyman on 24 October, in a double bill with veteran French jazz pianist Michel Legrand.
30 other major acts are heading to Cork, and with an exciting fringe festival, Cork's streets will be buzzing with free open-air gigs, jazz dance classes, talks and art exhibitions over the five days.
Irish Ferries Holidays can tailor ferry-inclusive packages at hotels and B&Bs in the Cork area, such as the Maldron Cork City, a popular and central three-star five minutes' walk from Cork Opera House, one of the main venues for the festival.
A five-night break during the festival costs £260 per person based on two people travelling by car from Pembroke to Rosslare, sharing a double room and enjoying 'the full Irish' breakfast each morning.
Ferry-only fares start at £193 return (in total) for two adults travelling with their own car on the same route.
See guinnessjazzfestival.com for further information and ticket sales, with concert tickets starting at €10.
For more information, visit irishferries.com/holidays