Volvo introduces all wheel drive powertrain upgrade for V40 Cross Country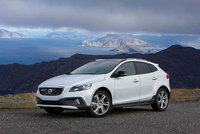 The successful Drive-E powertrain with a 245 hp petrol turbo T5 engine that was made available earlier this year for the V40 is now being introduced for the V40 Cross Country ­­– with the added capability of AWD.
"Volvo Cars is continuing to evolve the V40 Cross Country with this powertrain upgrade. The combination of the Drive-E T5 engine with AWD will give adventurous customers the power to explore, and all the control they need to be confident in all road conditions," says Dr. Peter Mertens, Senior Vice President Research & Development at Volvo Cars.
With 245 hp and 350 Nm of torque, the V40 Cross Country delivers all the power that drivers have come to expect from a Volvo. Adding to the refinement and fuel-efficient driveability is the 8-speed automatic gearbox with optional paddles on the steering wheel for manual gear shifting. UK customers can place orders from January.
Impressive CO2 reductions
Since they were introduced last year, Volvo Cars' ground-breaking four-cylinder Drive-E engines have been widely hailed for their unique ability to combine power and efficiency with a small footprint. Compared to the V40 Cross Country's previous T5 engine, the new powertrain reduces emissions to an impressive 149 g/km – a level unmatched by the Audi Q3 TFSI Quattro (179 g/km), the BMW X1 xDrive20i xLine auto (170 g/km) or the Mercedes-Benz B-class (SUV) 220 Sport 4MATIC DCT (156 g/km).
Refinement
This powertrain upgrade continues the series of enhancements that have been made to the V40 Cross Country this year. Other new additions have been a 19" Damara alloy wheel with grey diamond-cut rims, delivering not only extra comfort and off-road capability, but also less noise and added rim protection; plus a new exterior colour, Power Blue, as well as the updated on-board infotainment and navigation system, Sensus Connect, providing customers with a fully connected car.