A simple principle with a great holiday effect: Island hopping on the Seychelles is the best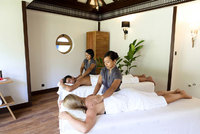 Island hopping is a holiday trend that is rapidly gaining popularity on the Seychelles. But to experience the most relaxing holiday possible, there are a few easy rules to follow. Top of the list is to plan at least two to three days per island and at the end of the holiday - after an exciting and adventurous tour of various islands - visit a quiet pool to truly enjoy a day of relaxation before departing. What could be a better place to relax than at the Savoy Resort & Spa?
With about 115 islands, there is no other group of islands that can offer as much adventure for the island hopper than the Seychelles. But what makes island hopping so popular? Is it the adventure or the independence? Island hopping offers the chance to get to experience many difference facets, sites and landscapes in a short period of valuable holiday time. If all parts of one island have been explored, just pack the suitcase and "hop" to the next one. This is a great way to discover new parts of the island group and their local specialities. "Many holidaymakers use their first station to arrive on the Seychelles and discover the island. But 90 per cent of travellers who visit the Seychelles a second time use island hopping as a holiday plan to get to know the Seychelles' diverse culture even better," explains General Manager Derek Barbe of the Savoy Resort & Spa.
A trend for modern holiday nomads

When done right, an island-hopping holiday can be very relaxing and the traveller can experience many new adventures. New impressions and experiences provide an escape from the everyday routine – just not too many. That is why a holidaymaker shouldn't hop islands too frequently. To avoid stress and be able to truly enjoy every island visit, the traveller should plan at least two to three days per island. A final time-out is also an absolute must and should be part of the travel plan.
For many holidaymakers, an island hopping tour on the Seychelles begins with a stay on Mahé. It is the main island with the central airport. Many tours start here to other islands, either by ferry, domestic flights or helicopter. The Seychelles offer a variety of island hopping destinations; all of which can be reached within an hour. All the islands offer hotels, resorts or bungalow settlements, where the visitor can check in. Here is an overview of the most beautiful and interesting islands:
Praslin, the second largest island on the Seychelles can be reached by ship within an hour. Here the visitor will find wonderful beaches and also the Vallée de Mai, a natural preserve that belongs to the UNESCO world heritage.
Silhouette, the third largest island on the Seychelles, is only a 15-minute flight from Mahé and is a paradise for hikers and treasure hunters. This is where the infamous pirate Hodoul might have buried his treasure, which still has not been discovered.
In only 15 minutes by sea from Praslin is La Digue, the fourth largest island on the Seychelles. In the island's lush tropical forest, there are orchids, hibiscus, almond tree and vanilla plants. Old traditions are kept up on the island so visitors may still run into an ox cart or look over the shoulder of a boat builder.
In only ten minutes by sea is the island Cerf, which is famous for its beautiful snorkelling sites, giant turtles and flying foxes.
The northernmost island on the Seychelles is Bird Island and is a 30-minute flight from Mahé. The traveller can gather exotic impressions into the unique flora and fauna of the archipelago. The most famous inhabitant of Bird Island is the over 300 kilogram giant turtle Esmeralda, who is supposedly over 200 years old.
Frégate is just the right destination for those looking for adventure, because the island was a favourite place for pirates to hide. Treasure hunters can start looking for pirate bounty that is rumoured to be buried on the island.
Anglers should find their way to Denis Island, only a 30-minute flight from Mahé. The waters are home to exotic types of tuna, barracudas and swordfish - enough to make any angler's heart beat faster.
The North Island offers luxurious environmental tourism. The local resort management has transformed to island, piece by piece, into a natural preserve, where endangered flora and fauna have started to repopulate. Visitors are offered intensive communion with environment and nature.
Before going home: Don't forget to relax

After an exciting and interesting island hopping tour, travellers are happy to come back to relax under the palm trees before flying back home. They will find a beautiful retreat on the main island of Mahé and check into the Savoy Resort & Spa to enjoy all the amenities of a 5-star hotel and continue their unique and unforgettable voyage. The hotel complex covers more than 6,300-m² and has direct access to the dream beach, Beau Vallon Beach. It offers 163 modern and elegant rooms, two restaurants, a beach bar and many wellness and sport activities. In the spa area, a team of beauty and wellness experts take care of the well-being and relaxation of every guest. The variety of programmes for beauty and relaxation includes 13 different types of massage, such as classic, Asian, ayurvedic and energy massage - and is a well-deserved finale for departing guests.