The all-new Suzuki Vitara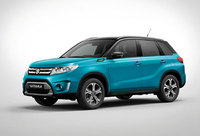 Ever since its market launch in 1988, the Suzuki Vitara series has earned acclaim for stylish, city oriented designs, compact, easy to manage dimensions, comfortable on-road performance, and genuine off-road capability. The series has evolved through changes in body size and powertrain. Now, more than 25 years after the original model's debut, the Vitara heritage is embodied in a fresh sport utility vehicle incarnation. The all-new Vitara has smaller dimensions to meet contemporary needs. It incorporates Suzuki's cutting-edge ALLGRIP four wheel drive system and advanced safety and connectivity equipment, it also enables owners to express themselves through various personalising options.
The new Vitara will go into production at the Magyar Suzuki plant in Hungary in early 2015, and will then make its market debut across Europe. It will later be exported around the world as Suzuki's global compact SUV.
Concept
Instantly recognisable Suzuki-SUV looks
The new Vitara inherits the styling of its series and Jimny series and brings it up to date in a brand new exterior design.
The performance benefits of ALLGRIP and a superior chassis
Large diameter wheels and the high ground clearance of an SUV yield plenty of off-road capability. In addition, an ALLGRIP system with four modes that the user can choose to suit the road surface and driving conditions assures great on and off road performance.
Personalisation that enables owners to express themselves
Owners can combine a range of exterior and interior items to express their individual personalities.
Advanced navigation and safety features
An audio system with smartphone connectivity gives access to advanced navigation features (available with higher grades). Furthermore, the Radar Brake Support system (available with certain grades) offers cutting-edge safety by using milliwave radar to prevent or mitigate collisions.
Superior fuel economy
The new Vitara meets contemporary demand for great fuel economy. Weight-saving measures including extensive use of high-tensile steel make the body outstandingly light and rigid. Powertrain technologies including a newly developed six-speed automatic transmission also help save fuel. The new Vitara with two-wheel drive and a five-speed manual transmission has CO2 emissions of just 123g/km.