Hundreds hurry to snap up the new Lexus NX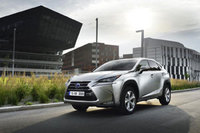 Keen customers are wasting no time making sure they secure the keys to the NX 300h, Lexus's hyper-stylish new luxury hybrid crossover. With more than 800 advance orders already taken, the model promises to add further momentum to Lexus's excellent sales growth, revealed in the figures released today by the Society of Motor Manufacturers and Traders.
Latest data shows Lexus's showroom performance ahead by more than 22 per cent so far this year compared to 2013.
The results up to the end of September provide a strong platform for NX 300h, Lexus's first compact crossover, which arrives here in November.
Meanwhile, the IS sports saloon is proving the powerhouse of the range. The first nine months of the year have seen total IS sales (the hybrid IS 300h and V6 petrol-powered IS 250) increase by 155 per cent, with fleet sales almost trebling and the number of retail customers more than doubling.
September and the new 64 registration plate produced 2,134 new vehicle sales for Lexus, taking its total so far this year to 7,049. Half this total – 3,549 cars – has been to the business/fleet market, demonstrating how more customers are appreciating the genuine savings Lexus hybrids can offer, combined with the premium quality, advanced design and technology, and ultra-refined performance that are hallmarks of the brand.