Sales of sports and energy drinks surpass £1.5 billion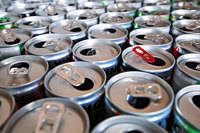 Whilst many Brits will currently be experiencing the post summer slump, new research from Mintel reveals that half (54%) of Brits claim to often feel tired, rising to six in ten (60%) women. In line with this, throughout the downturn the sports and energy drinks market saw steady growth rising from £1 billion in 2009 to an estimated £1.5 billion in 2014.
Today, three quarters (75%) of Brits say they are more fun to be around when they're feeling energetic (rising to 82% of women) and 64% say they get irritated easily when they're tired (rising to 75% of women). Further to this, it seems that many have been looking to fight their fatigue with sports and energy drinks as 61% of Brits have drunk a sports drink* and 46% an energy drink** in the past year.
However, despite its relatively high penetration, the sports drink market is declining – with sales of this drink down from 173 million litres in 2011 to a predicted 156 million litres in 2014, falling in value terms by 15% from £236 million to £218 million over the same period. This comes despite sales of energy drinks rising from 454 million litres to an estimated 550 million litres between 2011 and 2014, rising from £1 billion in 2011 to a predicted £1.3 billion in 2014. Indicating the continued strong performance of the energy drinks sector, sales are expected to rise to 647 million litres in 2019, compared to the sports drink sector which is expected to sink to 115 million litres.
David Zhang, Research Analyst at Mintel, said:
"The growth of the sports and energy drinks market has slowed down dramatically over the past couple of years since peaking in 2011, due to the ailing sports drink market. The decline in sales of sports drinks at a time when sports participation is rising highlights that consumers are opting for other sources of hydration when undertaking sports. With strong overlap between users of sports and energy drinks, cross-category competition between the segments looks likely to remain intense."
Indeed, the research shows that there is strong consumer demand for sports and energy drinks providing a natural high. When it comes to energy drinks, over three-quarters (77%) of Brits would like clearer information on what the different ingredients in the energy drinks do and 43% would be interested in trying energy drinks made with all natural-ingredients in the future. Furthermore, 72% would like clearer information on what each ingredients in sport drinks do and and 44% would be interested in trying sport drinks made with all-natural ingredients.
In addition, it seems that there are further questions among consumers about the effects of energy drinks with 69% of Brits saying it's hard to know how much energy drink it is safe to drink per day and 62% agreeing it would be a good thing for supermarkets to impose an age limit on the purchase of energy drinks. Meanwhile, highlighting the shift in demand in the sports drink market, over two-thirds (68%) of Brits think it's hard to tell if sports drinks actually work and one in five (21%) say that they are beneficial to athletes only.
"The high proportion of consumers wanting to understand how energy drink ingredients work offers a way for brands to differentiate themselves in the market by highlighting the ingredients used. Also, as functional claims are highly regulated, this interest suggests scope for brands to move the focus onto the various ingredients or the unique formula of their drinks in their marketing campaigns." David continues.
Finally, despite their 'on-the-go' positioning, Mintel's research shows that sports and energy drinks are mostly consumed in the home with 55% of Brits who drink sports drinks and 47% of those who drink energy drinks consuming them there. In contrast, just 24% of those who drink sports drinks consume them at the gym, compared to 26% for energy drinks.
For more information, visit mintel.com.