Is Dorset town set to become the new "Hollywood" for film-makers in 2015?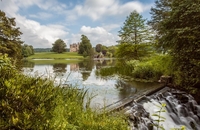 The historic Dorset town of Sherborne has a starring role in two potential block buster films and a new BBC series in the next 12 months. The impending release of The Imitation Game at the beginning of November is whispered to be a contender for Best Picture and features Sherborne School as the set for the biopic film starring Benedict Cumberbatch as the Second World War code breaker Alan Turing. Turing attended Sherborne School from 1926 and film crews were at the school in November 2013 filming scenes depicting his boyhood years.
Early Spring 2015 will see the release of the much anticipated Thomas Vinterberg adaptation of Hardy's fourth novel and first major literary success Far From the Madding Crowd. Starring A-listers Carey Mulligan, Tom Sturridge and Mathias Schoenaerts, film locations included Sherborne Abbey, Castleton Church and Abbey Close, the streets of which were transformed into an 1870s market square located in the town of Casterbridge.
This Summer saw Sherborne School and the surrounding area used again, this time in the filming of a BBC adaptation of Wolf Hall, Hilary Mantel's prize winning novel featuring Homeland and Band of Brothers actor Damian Lewis as Henry VIII and Mark Rylance a Henry VIII's scheming minister Thomas Cromwell. The six-part mini-series, to be broadcast next year on BBC 2, also includes Mark Gatiss and Jonathan Pryce in the cast.
Why can't Hollywood and independent film makers keep away from Sherborne? This small market town situated on the border between Dorset and Somerset punches well above its weight in so many ways. It boasts two magnificent castles, one of which was commissioned by Sir Walter Raleigh, a big star of his day in the 16th century and with magnificent grounds later crafted by Capability Brown; the other called The Old Castle, built in the 12th century, is now an impressive ruin providing the background for many a Summer picnic and the odd wedding proposal!
There is also the gothic presence of fantastic Sherborne Abbey which goes back much further than its magnificent Perpendicular arches and famous fan-vaulting suggest. Tradition has it that King Alfred the Great was schooled here, and certainly his brothers King Ethelbald and King Ethelbert were buried (AD 860 and 865) in Sherborne Abbey. In more recent years The Sherborne Abbey Festival, an annual music festival taking place at the Abbey in early May, has become a regular fixture.
More recent celebrities associated with the Town include numerous alumni from historic Sherborne School, which, like the Abbey, has compelling architecture that provides a picturesque and atmospheric setting for big and small screen alike. The 16th century School boasts old boys like actor Jeremy Irons, Coldplay's Chris Martin and Downton Abbey star Hugh Bonneville.
Visiting actors, camera crew and film producers can choose from any number of independent coffee shops when relaxing between takes. Coffee shop Oliver's, which recently picked up the Western Gazette Taste award for best independent café, is one of several independent tea and coffee rooms in "Cheap Street", Sherborne's high street. It joins The Green restaurant (greenrestaurant.co.uk ) and the Eastbury Hotel (theeastburyhotel.co.uk) in having been recognised recently with awards and accolades for excellent service and dining experiences. Added to this there are many independent shops including lots of unusual boutiques and gift shops, an independent butcher, J & M Parsons which has served Sherborne since 1840, Oxfords bakery which was established over 100 years ago and although there isn't a candlestick maker there is an independent iron monger or hardware shop – Abbey Décor. Visitors to the Town in recent years have spotted Daniel Craig and Rachel Weisz – both of whom live nearby - as well as Lord of the Rings actor Orlando Bloom and pop-star Will Young.
Not content with being the ideal location, Sherborne also has its own International Film Festival which takes place from 23 – 26 October 2014 and is now in its sixth year. The Sherborne Literary Festival runs earlier in the month from 15 October across five days.
Further information from: sherbornedorset.co.uk.