Waters Homes toasts new residents at its Birstall development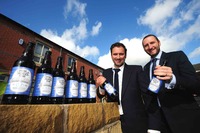 Award-winning developer Waters Homes is offering homeowners a unique opportunity to have a drink on them by giving residents at its Birstall development a crate of their own specially brewed beer.

Harking back to the sites original use as a public house, all residents who complete at its Charnwood Crescent development on Stonehill Avenue in the village will receive a gift of 6 bottles of Waters Homes 'Home Sweet Home' beer. The brown ale, which has been brewed at the nearby Belvoir Brewery has a strength of 3.9% ABV.

As Dominic Waters, development director at Waters Homes explains, the beer is a perfect gift to help residents settle into their new home:

"Moving house is obviously a big decision and we thought it would be nice to offer a personal touch to those moving into our homes.

"We've been delighted with the interest levels at our Birstall development and it's always nice to give something back to our customers. Once the move has gone through and you're in your new home, what better way to relax than with a Waters Homes "Home Sweet Home' beer!"

Out of the nine properties built on the popular development, just one of the three-bedroom homes is still available, priced at £165,000.

For more on Waters Homes and its developments, visit watershomes.co.uk.