David Hasselhoff launches own video gaming app in time for Halloween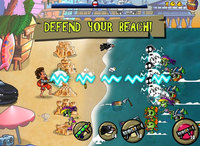 The legendary Baywatch star David Hasselhoff launches his very own iPhone app – Hoff Zombie Beach, a brand new arcade-style video game for iPhone, complete with the iconic Baywatch theme tune and other special features.
A life-long fan of classic arcade games such as Space Invaders and Centipedes, creating Hoff Zombie Beach has been a long-held dream for The Hoff. The living embodiment of "entertainment is about being entertaining" The Hoff believes the secret to his success is keeping on the cutting edge, starting with Hoff Zombie Beach as well as plans for a 3D printing project soon – and even perhaps Hoff: The Musical.
David Hasselhoff said: "If you have an iPhone, you know apps are a magical thing. To have my own gaming app is cool and very much a dream. Hoff Zombie Beach is for everybody; anyone from kids to grandparents can play this game. You just see how fast you can kill zombies, it's a lot of fun!
"From Knightrider to Baywatch, I've been around for a while and the reason for my longevity? Staying cool and hip! Hip with what's going on in the world and hip with the social media scene – isn't it pretty hip to make your own app that everyone can play? I love the fact I can stay connected with my fans via their smartphone."
Inspired by The Hoff's love of traditional American Halloween celebrations, Hoff Zombie Beach sees the player as the iconic Hoff himself, defending a beach from a mutant wave of zombies who are approaching from the depths of the sea. Using a range of unexpected weapons, from an exploding seagull to a goo gun, the aim of the game is to kill the zombies before they hit the sand and destroy the sandcastles around The Hoff's feet.
Socially connected, the player has access to a photo booth to position their own image through the Hoff cut-out and the ability to send their unique Hoff image to friends, as well as access to The Hoff's live Twitter feed. There's also a Hoff Soundboard that offers exclusive sound bites of 'Hoffisms' which can be unlocked throughout the levels.
It seems that Hoff Zombie Beach is only the beginning for The Hoff, his next project focuses on the 3D printing technology of tomorrow: "I am working very closely with a state of the art 3D printing company that is completely unique to all the other 3D printing companies. We will be taking 3D printing to the next level."