Summer never ends at Dream Gran Castillo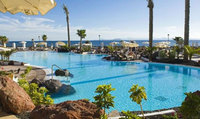 This year's summer may be a distant memory, but that doesn't mean you have to relegate your flip flops and shorts to the depths of your wardrobe just yet. Enjoy some winter sun and a luxurious 5-star experience at the Dream Gran Castillo 5* Hotel Resort, surrounded by quality and excellence in traditional Canary island style.
Reminiscent of an old castle, with fantastic views of the Atlantic Ocean and the island of Fuerteventura, the Dream Gran Castillo 5* resort is located in beautiful Playa Blanca in the south of the volcanic island of Lanzarote. The island enjoys a pleasant climate throughout the year, with the average temperature in October as high as 23°, so guests can bask in the heat, sit back, relax and take in the breath-taking views of the sea and surrounding scenery.
Read, take a stroll on the beach, or listen to music lying by the pool without worrying about the kids. At the Dream Gran Castillo, you can make the most of the free day care service for children from 6 months to 3 years old, open 6 hours a day and 6 days a week. Keen foodies can choose from a selection of restaurants and cuisines serving Canary, national and international specialties at the resort.
Seven nights at the Dream Gran Castillo Resort in Lanzarote in November for All Inclusive is from £738 or £105 per night.