easyJet to launch only direct scheduled flights between Bristol and Gibraltar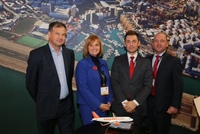 easyJet has announced that it will launch the only direct scheduled flights between Bristol and Gibraltar Airport, further strengthening links from the South West of England to the rest of Europe.
The airline announced the news at the UK's leading travel exhibition, World Travel Market, and the new route brings the total number of destinations served by easyJet from Bristol Airport to 47.
The new year-round connection will take off from Bristol Airport on its inaugural flight on 19 April 2015, flying up to three times a week with low-cost affordable fares.
Ali Gayward, easyJet's UK Commercial Manager, said: "We're really pleased to be introducing Bristol's only direct air link to Gibraltar Airport.
"With a year round service, affordable fares and flight time of just over two and a half hours, we're confident that it will prove a popular service for both business and leisure travellers. We will have more than 19,000 seats available on the new service next summer alone."
Shaun Browne, Bristol Airport's Aviation Director, commented:"Bristol Airport is delighted to play its part in extending the air links between the UK and Gibraltar. The city of Plymouth in the South West has a strong connection to Gibraltar through its rich naval and marine industry history, and more recently the financial services sector plays an important role in both our economies. This new flight will provide easy access and improve connections for both business and leisure passengers.
"It is interesting to note that this new route will offer the closest direct air link between Gibraltar and any UK airport, according to Great Circle Mapping. We are pleased that Bristol Airport can contribute to the strengthening of ties between Gibraltar and the UK."
Gibraltar is renowned for its rocky landscape and is ideal for those looking to escape to sunnier climates. Travellers can take advantage of Gibraltar's breath taking views from the top of the rock, vast history and wealth of shopping, as well as giving tourists an opportunity to explore the deep caves and caverns of the country.