Skoda offers to 'axe the tax' as the Fabia delivers even better value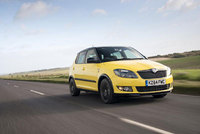 Skoda is offering Fabia buyers the chance to pick up a Fabia at an incredible price thanks to the introduction of a new 'No VAT' offer. With the third-generation model set to arrive early next year, Skoda is celebrating the success of the current model by offering customers the chance to snap up one of the award-winning current models with 20 per cent off the asking price.
While customers will still pay VAT on their purchase (not even Skoda can bend the rules), Skoda is slicing the VAT amount from the original list price. The offer is available across the hatch and estate ranges (S 1.2 12V 60PS model excluded) and extends to the recently launched Black Edition models, along with the highly successful Monte Carlo models and flagship vRS.
With the 'No VAT' reductions applied, popular models such as the 1.6 TDI SE have an on-the-road price of £11,910 – a saving of £2,270. Customers opting for the flagship vRS model can save even more with a £2,949 reduction on the original list price, bringing the 'No VAT' price to £14,745.83. With demand expected to be high, Skoda is urging customers to get their order in early to avoid disappointment.
Commenting on the new offer, Alasdair Stewart, Brand Director Skoda UK, said: "The Fabia has always represented fantastic value for money and this latest offer makes it an even more compelling package. This is a great opportunity to buy one of our most successful models at an incredible price and we expect this offer to be extremely popular with customers."